Hanovia and Berson present new UV range, combine into one company
01 Nov 17 by desalination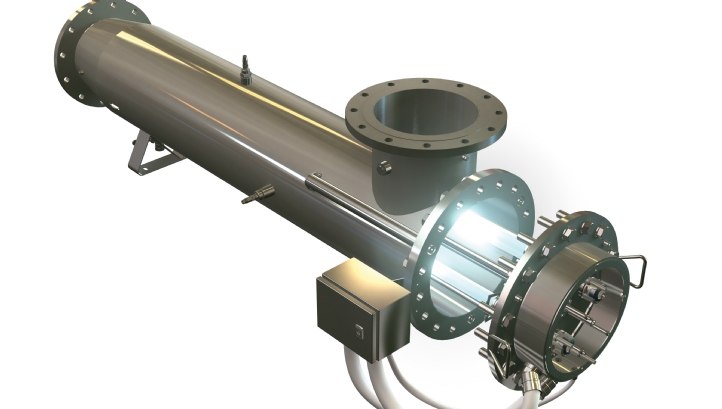 Halma businesses Hanovia and Berson have together launched a new low-pressure ultraviolet (UV) disinfection system for treating municipal, reuse, and wastewater.
The move comes as the two businesses merge to form a new, unified global company within Halma group.
The new low-pressure AmaLine R UV range was originally designed for the municipal market, and has been engineered for use in specific industrial applications. It is validated in line with US Environmental Protection Agency (EPA) and National Water Resources Institute (NWRI) guidelines.
The range has a flow range of one to 30 million gallons a day, and a U-shaped chamber that optimises flow to cater for water qualities with low UV light transmittance, making it ideal for reuse and wastewater applications. It has been designed using the latest computational fluid dynamics modelling, and uses low-pressure, high-output amalgam lamp technology to reduce energy consumption.
Hanovia focuses on designing, developing and manufacturing advanced UV systems for industrial, aquatic, and leisure applications, while Berson designs and manufactures UV disinfection systems for municipal drinking water and wastewater treatment plants. Both companies will now focus on all markets with joint resources, though the two units will retain their trading names.
"Our goal is to deliver application-optimised UV solutions to our customers, and combining our products and engineering capabilities allows us to accelerate that development. The greatest opportunity to come from the unification is to combine field resources so that we can deliver a step change to our UVCare programme," said marketing and sales director Tim McDougle.
The Hanovia UK facility will be the global headquarters and innovation centre for the new, combined company. The business has operations in the Americas, which will be led from the new Aquionics office in North Carolina, as well as in Europe, and China, which remains the headquarters for Asia.
The merged company boasts 150 years of combined experience in developing and applying UV technology, and has thousands of installations within industrial and municipal water treatment applications globally.
---
Comments
Login on register to comment