Desal at the centre of India-Israel state visit
12 Jul 17 by desalination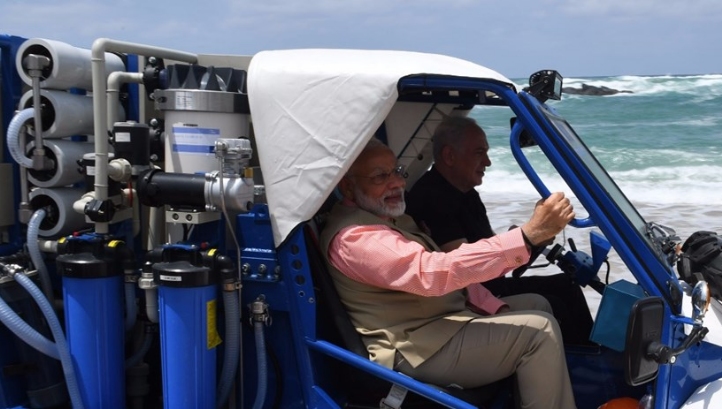 Desalination and water policy was at the centre of Indian prime minister Narendra Modi's visit to Israel last week (4 to 6 July, 2017).
As a result of the trip, $4.3 billion of deals were inked between enterprises brought together by a newly established India-Israel CEO Forum, $40 billion was committed to R&D, a strategic partnership on water and agriculture was formed, and seven memoranda of understanding (MoUs) were signed.
The promoted optics from the visit — the key official images that were shared with media — show Modi and Israeli prime minister Benjamin Netanyahu paddling together in the shallows on Olga Beach, and demonstrating a mobile desalination unit, Galmobile, by GAL Water Technologies of Israel.
The strategic partnership on water and agriculture will focus on water conservation, wastewater treatment and reuse for agriculture, desalination, water utility reform, and cleaning the Ganges and other rivers using advanced water technologies. A joint working group will be established to steer the partnership.
Of the seven MoUs signed, one was between UP Jal Nigam, the water utility of India's most populous state Uttar Pradesh, and Israel's ministry of infrastructure, energy and water, regarding state water utility reform in India; and another was between India's ministry of drinking water and sanitation, and Israel's ministry of infrastructure, energy and water, on the National Campaign for Water Conservation in India.
A third MoU established I4F, a new research and development, and innovation fund, worth $40 million. The department of science and technology of India, and the authority for technological innovation, Israel, will each contribute $20 million.
The visit hosted the first meeting of the new India-Israel CEO Forum, supported by the Federation of India Chamber of Commerce and Industry (FICCI), and the Manufacturers' Association of Israel (MAOI). Twelve commercial agreements worth $4.3 billion were signed covering agriculture, irrigation, water treatment, urban infrastructure, transport, pharmaceuticals, life sciences, digital technology, and defence.
In water, Sun Group of India and Water-Gen of Israel inked an agreement for "cutting edge technology for producing the safest clean drinking water from the air".
"There was a consensus that the current trade volume amounting to just over $4 billion, has the potential to reach $20 billion in the next five years," a CEO Forum statement said.
---
Comments
Login on register to comment