Adsorption pilot phase two will focus on ZLD
05 Jun 17 by desalination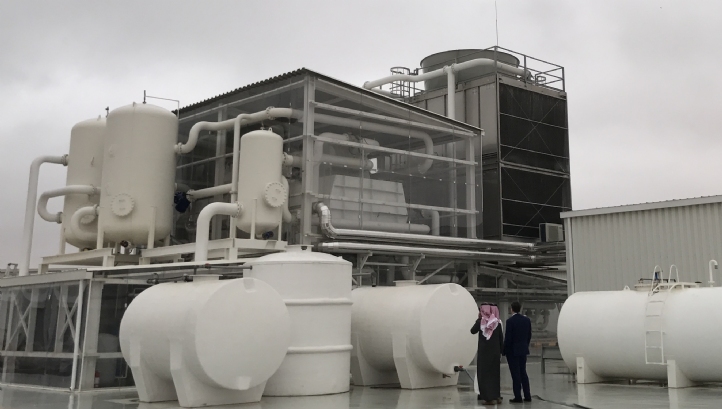 MEDAD Technologies, a specialist in adsorption, has worked to commercialise a multi-effect distillation adsorption desalination (MED-AD) system since spinning off from the National University of Singapore (NUS) in 2012.
The company initially acquired patents from NUS, and later added patents from King Abdullah University of Science and Technology (KAUST), after professor Ng Kim Choon, the technology's inventor, moved there in 2013 to continue his research in the field.
The company began a commercial pilot in Saudi Arabia in September 2016, in collaboration with King Abdulaziz City for Science and Technology. The 100 m3/d project, for recovering reverse osmosis (RO) reject brine, is situated 100 miles inland, in a solar manufacturing facility near Riyadh.
"Recovery rates are critical at the site because it's so far inland," says Kris Childress, MEDAD director of business development. "We achieved a recovery rate of 87 per cent with our adsorption technology." The patent-applied adsorption system uses multiple beds of powerful adsorbents to achieve a continuous evaporative desalination process.
The pilot uses electricity only for pumps and valves
The adsorption system is powered by low-grade heat of 85 degrees centigrade from varied sources such as boiler exhaust or solar thermal, and can concentrate feed water up to crystallisation levels. It does not require steam. Adsorption-hybridised MED operates below the temperature of its cooling water because it adsorbs vapour at saturation pressures below 10 degrees centigrade, while using cooling water of 30 to 35 degrees centigrade. The pilot, which uses electricity only for pumps and valves, has a gain output ratio (GOR) that is 50 to 55 per cent higher than a traditional MED process.
The pilot is now moving into phase two, a zero liquid discharge (ZLD) system comprising multiple concentrators/crystallisers. One of these will be hybridised by replacing the mechanical vapour compressor and mechanical chiller with MEDAD's adsorption technology, using waste heat from a boiler to power the process.
ZLD pilot will be installed in August 2017
Adsorption can generate vacuum and low temperature for optimal ZLD with minimal chemical use, eliminating the need for external refrigeration, and potentially reducing the operating costs to less than 20 per cent of those of a conventional crystalliser system. The pilot ZLD system is expected to be installed in August, and to begin operating in October 2017.
"We are replacing the vacuum pump with adsorption, and using waste heat instead of electricity. Our electricity consumption should be significantly lower, around 6 kWh/m3, compared to a conventional ZLD's 60 to 120 kWh/m3," says Childress.
MEDAD chief executive Joseph Ng adds: "We're not trying to reinvent the wheel, we complement concentrators and crystallisers. We are replacing the vacuum pump and chiller, thereby reducing pre-treatment chemicals, which account for about 95 per cent of traditional ZLD operating costs."
While MEDAD's adsorption technologies apply to desalination and wastewater treatment, the company is increasingly focused on wastewater ZLD markets, including flue gas desulfurisation (FGD) in India and China, where it sees a big commercial opportunity.
"We are very effective in FGD discharge, fracking wastewater, rare earth solution mining, and in other situations, such as cruise ship scrubbers, where there is abundant low-grade waste heat and they want ZLD," Ng says. "There is an urgent need for ZLD in China and India. The pain factor is high, and MEDAD's operating expenditure is much lower than a traditional ZLD system."
The company, in which KAUST and NUS own minority stakes, aims over the next two years to expand its commercial projects around the globe. Although primarily a technology company, it will act as the main engineering partner on projects on a turnkey basis.
---
Comments
Login on register to comment