'Our capex is on a par with traditional desal'
15 Mar 17 by desalination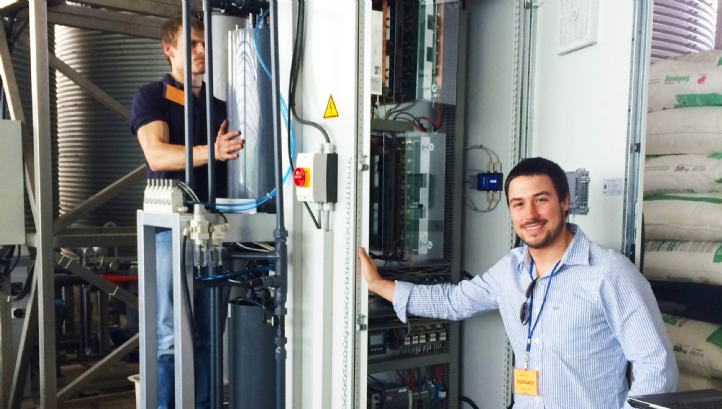 The commercialisation of Voltea's electrodialysis-based desalination technology, CapDI, is happening apace says chief executive Bryan Brister.
The company's go-to-market strategy is twofold: First, it has a direct sales force in Europe and north America; and second, it's building out a network of system and application integrators. The strategy has reaped rewards, particularly in the US, Mexico and Canada, which have supplied 70 per cent of growth in the past 18 months. "I don't see that letting up in the next two to three years. North America is going to continue to lead in terms of innovating, and implementing innovative technologies," says Brister.
So what is Voltea selling? Its CapDi (capacitative deionisation) technology is based on the tried and tested process of electrodialysis. The CapDi units have two plates in between which water flows, one having positively charged electrodes and the other negatively charged electrodes. The negatively charged salt molecules stick to the positively charged plate, and vice versa.
"It's electrodialysis. There's nothing unique about that," says Brister. The clever — and patented — part, comes in the continuous regeneration process, whereby the polarity of the surfaces is flipped in order to clean off salt once they become saturated. To prevent the salt from simply jumping over to the oppositely-charged plate, the plates are covered in a coating that prevents either negatively or positively charged salt molecules from moving back and forth.
"That gives us an elegant way to trap the salt in that middle flow channel. We simply rinse it away, and then flip back to purifying again. It's the lowest cost way to take salt out of water on the planet," says Brister. The technology focuses on brackish water with salinity levels up to about 3,000 parts per million of total dissolved salts. In many cases, it is used as a final polishing step in water reuse systems in light commercial and industrial applications. Successful installations have included in reuse systems for commercial laundry operations, and automotive painting processes. In one horticulture application in Mexico, the growers wanted a better crop yield from their tomato plants, and had been unable to grow peppers owing to the salinity of their water.
"They asked us, 'can your technology be used where in the morning we want to water tomatoes, and we want to take out only a little bit of the salt, but in the afternoon we want to water pepper plants and we need to take out more of the salt from the water'," says Brister. "That's one of neat, differentiating factors about CapDi technology. You have a tremendous amount of precise control on how much salt you take out of the water."
Operating costs for CapDI are two or three times lower than conventional RO because there's no need for high water pressure. The capital cost is on a par with RO up to a capacity of about 500,000 to 750,000 US gallons a day (2,000 to 3,000 m3/d).
Voltea provides remote diagnostics and system control over the internet. "Anywhere you can log onto the internet, you can log onto our system and remotely adjust it," says Brister.
The company was spun out of Unilever nine years ago, first as a research and development entity, and then as a commercialisation company when Brister joined three years ago. The chief executive earned a PhD in polymer science from the University of Southern Mississippi, joined GE in a research and development role; and moved to its corporate audit office to learn finance and accounting before leading GE's Caribbean Basin desal business. He was one of the five founders of Seven Seas Water, and was later recruited by investors at Voltea.
The next two or so years will see continued commercialisation of the technology — including a launch where CapDi will be integrated with the products of the world's largest consumer brands — and Brister hopes to challenge conventional desal vendors.
"In the past 18 months we've taken 48 per cent out of the capital cost (capex) of getting a piece of CapDi equipment. We know we've got a much better operating expense. The challenge has always been capex. We've gotten to a point now where our capex is on par with traditional desal."
---
Comments
Login on register to comment