Revolutionizing The Recovery of a Brackish Water RO Plant
Now available to view on-demand
Recorded on 08 May 18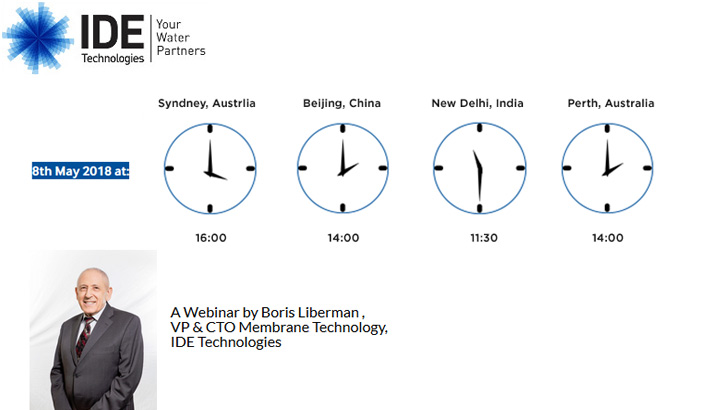 Standard BWRO technology has hardly changed for decades and can't deliver high recovery due to:
Mineral and organic fouling
Bio fouling
Scaling
Low recovery
Complicated two or three stage structure with inter-stage boosters.
High power consumption
In this webinar, Boris Liberman will explain how IDE's new Pulse Flow RO technologies solves these challenges and revolutionizes the plant recovery rate using a range of techniques:
1. Dead-end 100% recovery. No residual brine discharge followed by short, intensive brine-flush.
2. Membrane cleaning regime featuring micro-pressure strokes.
3. Forward osmosis backwash.
Presenter
Boris Liberman
VP & CTO Membrane Technology, IDE Technologies
Dr. Liberman joined IDE in 1993, and held various position in the company prior to assuming his current position as VP and CTO for membrane technologies. As CTO he leads the company's R&D activities in the RO field.
Dr. Liberman is responsible for several industry technological breakthroughs including the Pressure Center Design, the patented Direct Osmosis Cleaning enabling membrane cleaning without stopping the RO train, green desalination allowing desalination without the use of chemicals, and 16" membranes in a vertical array.
He is extremely well known and respected in the desalination field and regularly speaks at leading industry conferences and events. Dr. Liberman holds a B.A. and M.S from the Civil Engineering Institute Rostov-on-Don, USSR and a Ph.D. from the Institute for Scientific Research in Water Supply, Moscow.