Lanxess elements tackle difficult Nile river water
23 Nov 16 by desalination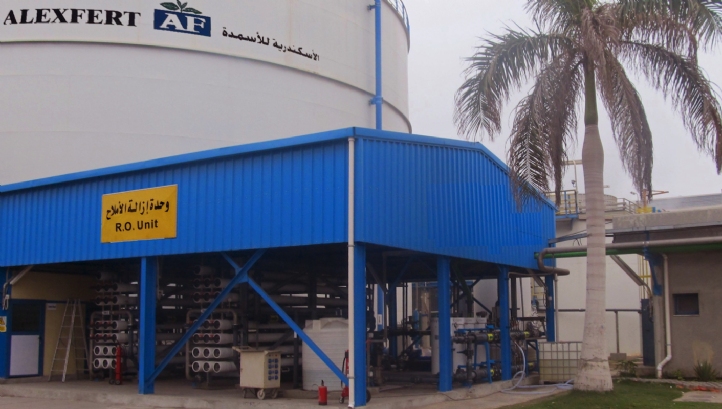 Specialty chemicals company Lanxess is providing a new reverse osmosis plant to desalinate and demineralise water from the River Nile in Egypt, for fertiliser manufacturer Alexfert.
The plant was installed at an existing water treatment plant to provide pre-treatment for full demineralisation. The pre-treatment RO system uses 228 Lewabrane B400 FR elements. Lewatit MonoPlus ion exchange resins are used for demineralisation, resulting in demineralised water conductivity of less than 0.08 uS/cm (microsiemens a centimetre), and 2 parts per billion of silicon dioxide.
The RO plant is fed by canal water from the Nile, whose seasonally variable inorganic and organic total dissolved solids content is 300 to 550 milligrams a litre. It has two trains, each with a feed stream of 120 m3/h, and a recovery rate of 74 per cent. The trains comprise two stages, in a 13:6 array, with six elements to a vessel.
The RO elements reject salts up to levels of 99.76 per cent, resulting in permeate conductivity of 3 to 5 uS/cm; and significantly reducing the ionic load for the resins at the demineralisation unit, increasing its cycle times by four.
"The membrane elements from Lanxess exhibit an excellent level of performance with the difficult Nile river surface water. The rejection measured even exceeds expectations. Using reverse osmosis for pre-treatment means that we can reduce the consumption of specific chemicals for resin bed regeneration by around 60 per cent," said Alexander Scheffler, director of membrane business in Lanxess' liquid purification technologies unit.
Read about Aquatech's ZLD plant, designed to protect River Nile waters.
---
Comments
Login on register to comment