Is water in the grip of a skills crisis?
29 Jun 17 by desalination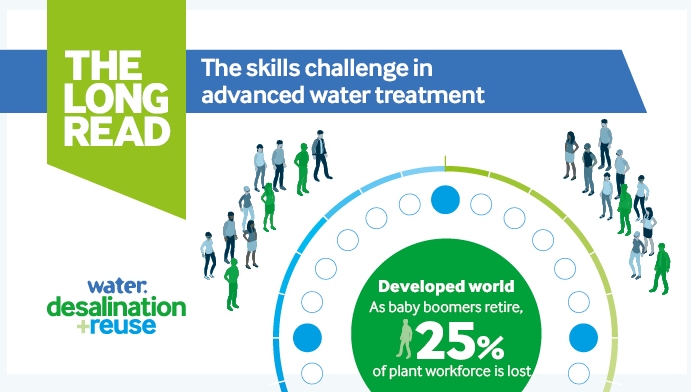 In an engineering-heavy sector such as water, it's a truism that well qualified people are thin on the ground. But is it more accurate to say that the global water industry in the grip of a skills crisis?
From core engineering specialisms, to law, finance, and project development capabilities, the global water workforce is arguably falling well short of the skills and experience it needs to meet the challenges of 21st Century water.
Knowledge transfer
In the developed world, and particularly in the US, a creeping skills shortage is resulting partly from retirement among experienced professionals from the baby boomer generation. The workforce at some US water treatment facilities is estimated to have thinned by up to 25 per cent since the early 2000s for this reason.
"At the desal plant, our O&M contractor had some retirements that have been challenging to
replace." Ken Herd, construction and contracts senior manager, Tampa Bay Water, Florida
"We have struggled to fill vacant positions most especially with any seawater desalination experience," says Ken Herd, construction and contracts senior manager at Tampa Bay Water, Florida. "At the desal plant, our O&M contractor had some retirements that have been challenging to replace with seawater desal background."
The IDA Young Professionals Group (YPG), a global community of under 35-year-olds working in desal and reuse, was formed in part to help counterbalance this trend. "We have sought out the folk with years of experience with systems like reverse osmosis, to learn from them and to apply best practices," says Holly Johnson Churman, lead water/wastewater engineer at GHD, and a YPG communications coordinator. YPG orchestrates networking among young water professionals in Asia, Europe, the Middle East, and US, and connects rising industry stars to established role models through mentoring.
"We facilitate interactions between mentors and mentees, usually for three to six months, encouraging them to set up conversations, and providing guidance to the next generation on topics in desalination. We've had positive feedback that it's a good way to transfer knowledge," she says, adding that an emerging field for young professionals is "technology crossover work. We're taking solutions from one sector and seeing if we can adapt or develop them for another. That's an emerging field that younger professionals have an opportunity to be involved in, and guidance from more experienced professionals can enable that transition to take place effectively."
Meanwhile in California, US, Otay Water District is taking a proactive aproach. "We try to have overlap in key positions, as well as to cross-train people, to document and convert legacy records and processes, and to adopt progressive technology," says human resources manager Kelli Williamson. Yet particularly in engineering and design, and operations, the challenge is still growing.
"We are definitely experiencing a very challenging time regarding skills and experience versus new technologies, says Otay water operations chief Pedro Porras. "The water industry has morphed from labour intensive in the 1960s, to embracing automation — high-level equipment and instrumentation with self-calibration and electronic surveillance. There is a need for staff with high-level technology skills, and an understanding of water system operations and maintenance," Porras adds.
Developed economies
But the skills challenge in water arguably runs deeper than a gradual loss of long-serving staff and some patchiness in the technical and operations know how of the next generation. Carlos Cosin, former Abengoa CEO who in January 2017 set up new water company Almar Water Solutions, believes that many years of under-investment by municipalities, combined with a lack of innovation among the dominant engineering firms, has led to the sector ultimately failing its customers.
"Other sectors progress a lot more. They are able to accommodate new ways of living. Water never does this." Carlos Cosin, Almar Water Solutions chief executive
"Other sectors progress a lot more. They are open and flexible to change, and able to accommodate new ways of living, and new demands from customers. Water never does this. The US is a very good example: They have this old model, which is a market fully dominated by the consultants. They do engineering for the municipalities, and they go with this engineering to the design and build companies. In the end they have a problem, because this is not necessarily the engineering that they need, and they build something that does not exactly fit the demand. They are building water infrastructure with this model for 100 years. The market is changing, the needs are different, and they are reluctant to change; to explore new ways to build, to finance infrastructures, and to accelerate the process," Cosin says.
In this world view, one reason for the water sector having grown so moribund is that professionals within municipalities and consultancies lack relevant and contemporary project skills. "If there is not someone to act as a driver to move in the appropriate directions, things continue as they have always been done," Cosin says. The big challenge, then, is how to inject some much-needed contemporary skills and ideas into the water industry?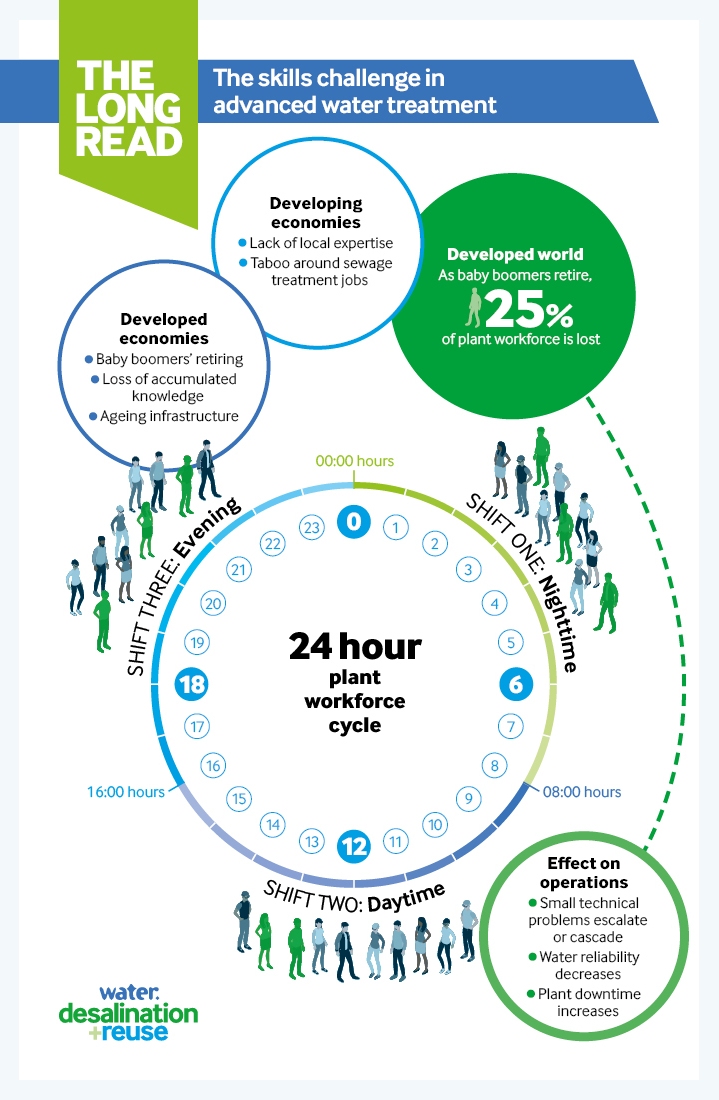 Developing economies
In developing economies such as in India and Southeast Asia, the skills challenge is less about how to upend tired business models, and more a question of nurturing talent within the local workforce.
"Because water is a local issue, it needs to be solved locally. In developing economies, you don't have people locally, and they cost a lot if you want to bring them in from other countries," explains Paul James, director at GWI Selection, a specialist recruitment agency serving the global water sector. "There is a huge need of skilled people to deliver water projects in the developing world, and the demand just gets higher and higher."
"If projects are delayed, this has huge financial and time consequences. On the operations side … you may have interrupted supply." Paul James, director, GWI Selection
In 2014, GWI Selection (then Engineering Solutions Spain) ran an online survey on skills in the global water industry. Of 50 respondents, 76 per cent stated that a lack of skilled personnel had either a "high" or "very high" degree of impact on their ability to serve client needs and to complete projects on time. Additionally, the poll found that the top three most significant outcomes from lack of skills were "delayed project execution", followed by "unhappy client", then "bottom line gets affected".
The skills gap is a thread running through the water projects lifecycle, from development to delivery to ongoing operations and maintenance. "If projects are delayed, this has huge financial and time consequences. On the operations side, you may sometimes distribute non-quality water to consumers, because there are not enough people who understand the consequences. Or you may have interrupted supply. Non-reliable water is one of the biggest problems for the utilities in developing countries," James adds.
Agile talent
One response is for multinational engineering firms to nurture talent more actively. Sidem-Veolia is one such, supporting young stars to gain a broad range of experience in project management and commissioning. "I was trained very rapidly, because when you're in the middle of a project, you learn fast and you gain knowledge very quickly," explains Ziad Bouars, Sidem-Veolia commissioning manager, who began his career at Marafiq IWPP, Saudi Arabia, in 2008. "When you're working on a project, you see with your own eyes what they are talking about back in the office."
Bouars later joined Sidem-Veolia's mega seawater reverse osmosis desalination plant project at Sadara Petrochemicals Complex, Saudi Arabia, where he oversaw all aspects of commissioning, pre-commissioning, and start-up of the plant, as well as helping to ensure that construction stayed on schedule. The staff on site numbered about 200, and Bouars, who was born in France and is of Tunisian heritage, says that his affinity with both Arabic and European cultures helped him to motivate a diverse project team comprising professionals from all corners of the globe. "It's a really big cultural mix. Especially when you are doing projects like us, there is a huge role in all the communication and interaction," he says.
As a project delivery and operations professional with plenty of hands-on experience, Bouars additionally stresses that intellectual flexibility and operational agility are repeatedly drawn upon to deliver projects on time and budget. "It's really challenging and you have to innovate. Every time you have to find new ideas to solve the day-to-day issues. Sometimes, it's just amazing because you have everything in the design planned. It should work perfectly in a perfect world, but it's never exactly like that in day-to-day life. That's why it's a very, very challenging job and an exciting job," he says.
Q&A Ziad Bouars: "When you come it's just sand"
Targeted training
In Oman, Middle East Desalination Research Centre (MEDRC) is developing home talent through a vocational desalination training scheme called TAHLYA. Sponsored by oil and gas multinational BP, it offers plant operator and supervisor courses, covering intake, pre-treatment, reverse osmosis, and post-treatment, at a specially-designed research and training centre in Muscat.
"We work hard to support graduates in securing employment, and have a mutually beneficial working relationship with operation and maintenance companies in Oman." Riadh Dridi, MEDRC head of training
The aim of the training is to bolster the supply of local skilled workers into Oman's growing desalination sector (Oman Power and Water Procurement Company expects demand in its largest water zone, the Main Interconnected System, to rise by 5 per cent a year to 1.1 million m3/d by 2023). The initiative also falls in line with the government's Omanisation drive, through which it wants to raise the number of Omanis employed in the country's private sector.
"TAHLYA trainees will graduate with knowledge and skills that can be put into practice at any reverse osmosis desalination plant, no matter the size. We work hard to support graduates in securing employment, and have a mutually beneficial working relationship with operation and maintenance companies in Oman," says MEDRC head of training Riadh Dridi.
Additionally, the centre offers continual professional development training (CPET Water) in desalination and water reuse, covering operations, trouble shooting, maintenance, monitoring, and plant design; it works collaboratively to support water authorities throughout the Middle East and North Africa, including Jordan Valley Authority and Palestinian Water Authority; and it connects students to broader development opportunities such as courses in financial literacy, leadership skills, and through professional coaching.
Masters in water
While pockets of good practice may be found dotted throughout the water sector, industry figures still point to a lack of targeted and high-level education that can support promising individuals into water sector careers. "There is no formal college education for water treatment. It generally forms part of chemical engineering. Okay, there are a few courses in France and UK that have an environmental specialism, but to get to operator level, you don't have those courses," says James.
Cosin goes further, arguing that a failure to train up skilled, senior project development professionals is holding back progress in the water sector worldwide. "There is no one specific career for water professionals. I'm not just referring to engineering, or process design, or technical knowledge. We lack the professionals who understand how water infrastructures can be financed, and the legal and regulatory frameworks that are required," he says. "If you talk to lawyers about water project contracts, BOTs (build-operate-transfer) or PPPs (public-private-partnership), people are not aware about this, whereas in other sectors there are huge numbers of people with this knowledge."
Otay Water District engineering chief Rod Posada reflects a similar viewpoint. "Universities and industry groups do a good job at technical training, but they need to do more project management and emotional intelligence training. This issue is not only related to new graduates, but includes seasoned professionals of 20 years experience or more. They may have great technical skills, but they lack the basic social aspects of desiging or managing a project, such as good judgment, common sense, or the ability to view how each element of the project or design is related, or may affect other aspects of the project, such as budgets, public relations and community outreach, environmental impacts, and stakeholders."
Such lack of skills in formulating the social frameworks, and legal and financial contracts that are the bedrock of successful water projects often leads to long delays to enable people from governments, municipalities, and private enterprises to be brought up to speed.
"I have been talking with many professionals with the idea of creating a water career, four years of education, plus two years of masters-level training." Carlos Cosin, CEO, Almar Water Solutions
"In Qatar, they want to accelerate their water infrastructure to support construction activity for the World Cup in 2022. They want to use PPPs, but first they need to train the legal guys, and after that the financial guys, and then to bring on board consultants to prepare the framework. It takes time," says Cosin, adding: "They have a high risk of delay."
As a response to such challenges, Cosin is looking to develop a new education offer specifically tailored to address water sector needs, with training up to masters degree level. "I have been talking with many professionals with the idea of creating a water career, four years of education specifically in water subjects, plus two years of masters-level training either in legal, financial, or research and development," he says. "In Spain, there are engineering colleges for mining, agriculture, forestry, and after five or six years those individuals are perfectly prepared to start work in the sector. But there is not one single engineering college to train water professionals. That's my challenge," he says.
Several potential host universities, as well as sponsors, have put forward proposals for how they could support the initiative, with a view to running an initial test course in 2018, and starting fully in 2019.
With such a programme in the pipeline, the water sector can hope that the current skills gap does not become a long-running crisis in years to come.
---
Comments
Login on register to comment