Interview: IDE Technologies CEO Avshalom Felber
14 Sep 16 by desalination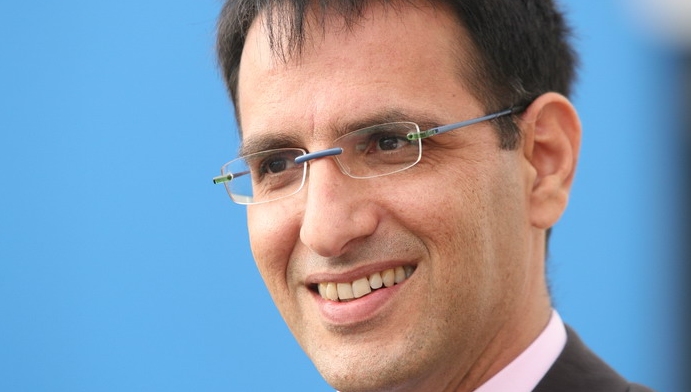 Above all, IDE is a solutions provider. So says chief executive Avshalom Felber, the former financial whizz turned water industry leader, as he outlines the company's unique mix of thermal and reverse osmosis (RO) technologies, operational expertise, and contractual nous.
"We analyse markets by client orientation and technology. A municipal government buying potable water or an industrial client that wants to reuse water are totally different types of client. A totally different process, type of risks that they see, type of costs they want to avoid. Each one has its own set of criteria of what is best for him," says Felber. "This is how we cater to our clients. Start from their need and work backwards to the various technological solutions and contractual-based solutions, be it a water sale agreement, a plant build, or running operations for them. These are all different cocktails that each one wants to drink."
Creating client-specific solutions rather than selling technologies has helped to establish IDE as a world leader in desalination, particularly for mega-size plants producing up to 650,000 m3/d of water. The company has won plaudits for its desalination plant in Carlsbad, California, and has constructed and operates some of the largest desalination plants in the world, including the largest in China, a 200,000 m3/d, multi-effect distillation plant in Tianjin. Felber believes that IDE is well placed to act on opportunities in the global mining, and oil and gas industries as they recover from a post-financial crisis slowdown, and to meet the rising demand for reuse from industrial and municipal clients; as well as continuing to improve much-needed desalination technologies for making potable water.
Although softness in the global oil and gas and mining sectors has slowed the number of new desalination and reuse projects globally, the more significant effect of the downturn for IDE is that its joint owners, Delek Group and Israel Chemicals, are looking to focus on their core activities and to sell IDE, reportedly for between $700 million and $1 billion.
Felber is taking it in his stride. "The process is ongoing and we are involved with some parties regarding this. Of course, eventually things will be decided by meeting the buyer's and seller's expectation on price. So it is never sure that this will actually end with the sale of IDE, but it's definitely the intention of the shareholders to sell the company because it's not core to either of them," he says. So far at least three companies have reportedly bid, including China Communications Construction Company, which offered $650 million in August. The due diligence process is ongoing, with final bids due in November and an ambition to sign a deal before the end of the year.
One upside of a possible sale is that markets currently closed to IDE as an Israeli company may become accessible if it changes hands. "The countries that don't deal with Israeli companies represent 60 per cent of the global desalination market, so it's not a minor thing. If a non-Israeli entity is the new owner, it's important. Of course, this very much depends on how the technology and the activity will be digested into any international firm that might buy IDE, but if this actually goes through, it's not only an upside for the buyers, but in my opinion also a very large upside for clients that are missing out currently on the very best technology available because of political matters," Felber says.
Clearly, while Felber squarely positions IDE as a solutions-based, client-focused business, the company's technology plays a huge part in its success. The business was — uniquely, he claims — able to transition during the mid-1990s from being solely a thermal desalination supplier to add reverse osmosis (RO) to its portfolio, and has gone on almost to halve energy consumption at its RO plants over the past 20 years.
"Part of it is improvements in the industry, and part of it is the constant innovation that IDE brings into existing technologies, as we did in Hayman Island, Australia, where we consume 2.8 kilowatt hours per cubic metre, which was by far the lowest in the industry, by deploying very specific technologies that we developed for this purpose," Felber explains. The owners of the Mulpha Australia desalination plant in 2013 selected IDE's Progreen modular RO system, a chemical-free, all-in- one seawater RO package that ranges from 500 m3/d to 20,000 m3/d capacity, to supply the luxury five star resort island on the Great Barrier Reef off Australia's north east coast.
In IDE's view, the need to reduce costs will continue to drive down the amount of energy and chemicals used in water production and treatment, as well as pushing improvements in membrane technology. "We of course follow all the developments in membranes, and pilot all the new innovations that are made in labs worldwide. For the next 10 years, more chemical stable membranes that can handle more difficult waters, and that reduce energy consumption, will be the mainstream," Felber says.
However, he cautions those who seek to make direct links between renewable energy sources and desalination plants. "I don't see the logic, except for the political logic. Many RO plants and some thermal plants connect to the grid and use electricity as the source of power. Electricity is electricity, you can get it from renewables, from fossil fuel, from wherever. A government may have a policy to have some renewable energy in the grid, but there's no real connection between that and the desalination plant," he says. IDE is looking at technologies to power thermal desalination on solar energy, but this requires "very specific circumstances", explains Felber. "Mainly, that the place is near the sea and has land for thermal power, or some other way to create steam from thermal power."
Where Felber sees a "real revolution" in water technology is in pressure-retarded osmosis (PRO), or extracting osmotic energy from brine or seawater, a process it is piloting in Israel. "You can recover the osmotic energy in your seawater or brine by mixing it with the stream of a river, or the stream of discharge of municipal waste plant. This idea has been around for a long time, and now we are making it practical," says Felber.
This could be particularly beneficial at a site like IDE's desalination plant in Larnaca, Cyprus, which is situated next to a wastewater treatment plant. "If you take the brine from the desalination plant and mix it with the discharge of the municipal waste plant, you can create double the energy and bypass the electricity phase, going directly to pressure in the desalination plant, so this is a win-win situation," he says.
IDE will begin promoting the technology in the next few years, "as one of our new innovations, pushing the industry forward as we have always done. This idea, combined with a desalination plant, can be a real revolution because if you take the entire brine stream and squeeze out of it, through a membrane process, the pressure back into your system, you have lowered very much the energy consumption of your plant," Felber adds.
Globally, IDE sees further potential for combined solutions such as it offers for municipal reuse, industrial water treatment, and desalination, in markets in Australia, China, and India, where it is already the largest supplier by far, as well as the US; and in South America, Chile, Peru, and parts of Brazil.
Texas, US, is a big target market for IDE in the next few years, with its strategy to offer a one-stop-shop solution for industry and municipal clients. "We opened an office in Texas for oil and gas and for desalination. Texas is suffering from severe drought, and desalination will become part of a cocktail of solutions there, in industrial and municipal segments," says Felber. "Generally speaking, the US market is developing in terms of desalination, reuse of municipal waste, and reuse of industrial waste, and all of this in the strongest economy in the world. We believe that there is very large potential in the US, and it's definitely one of our focus areas in the next few years," says Felber.
Additionally, it is eyeing the global mining industry, particularly in China and other regions where regulations are encouraging industrial water reuse. "Mining is a very large and interesting potential market, because many of their processes don't take account enough of the amount of water used. The more pressure that comes on mining companies to manage their water properly, so we will see desalination plants coming in as source of water in some places, and more than that, treating the effluent, and recycling water back into the process, so as to reduce the overall water consumption of the rig," explains Felber.
"Water treatment in mining is very difficult because it's complicated chemistry, often involving both thermal and membrane processes, and IDE is one of few companies that offers both of those technologies. We see big potential in industrial water reuse," he says.
In its focus on oil and gas, the company is targeting both traditional producers, and oil sands and fracking clients, all of which are large consumers of water in their processes. "With stricter government regulations and the need to supply water to the population, governments are pushing those industries — oil and gas, and mining — to be more self-sufficient, meaning that they produce their own water and reuse that water to the best level possible, in order to free fresh water for the population. You see this in Peru, Chile, China, and definitely in Australia, where no-one would give a mine free river water," says Felber.
While it is keenly eyeing opportunities in industrial markets, IDE remains convinced that the single biggest driver of the global water industry in the coming years will continue to be supplying drinking water to populations that are threatened by water scarcity. "Municipal is obviously the biggest long-term market potential because the fundamental underlying problem of water scarcity is first and foremost to supply water to the population," says Felber.
The example he gives is his home turf, Israel, which he says "crossed the line and moved from three per cent of municipal use out of desalination in the 2000s, to 70 per cent today, which is a pretty dramatic move." Local conditions are likely to result in varying solutions and sizes of plant, however, and Felber acknowledges that Israel's small size means that transportation of water from a few large plants is relatively unproblematic.
"The specific size and type of the plants that will be needed is a very local matter. There are very many elements that feed into the equations of whether to build a very large plant or a few small ones. In some places, it wouldn't make sense to build such big plants because then you have to deliver the water for long distances and this is costly." IDE considers that there is still potential for large municipal plants, particularly in places like Beijing, where demand is high and there are lots of people living in a concentrated area. Even a municipal plant of 40,000 to 80,000 m3/d requires a provider large enough to deliver it effectively, says Felber.
Potable reuse for municipal clients is a "complementary market" to desalination, Felber says, and IDE has delivered one direct potable reuse project and an indirect potable reuse project to municipal clients over the past four years.
"I believe that the reuse market is going to be a very large one. There is, unquestionably, a future demand for desalinated and reuse water, the two main future sources for water. In the short and long term there will be a need for more fresh water than is available on this planet without those processes. It's obvious that the industry will grow at a pretty fast rate, because in most of those places that currently have water scarcity, the natural source is over."
The September 2016 edition of Water. desalination + reuse is available to view online or to download in pdf.
---
Comments
Login on register to comment