ACWA Emirates delivers MBR reuse plant for Saudi Aramco
11 Jan 17 by desalination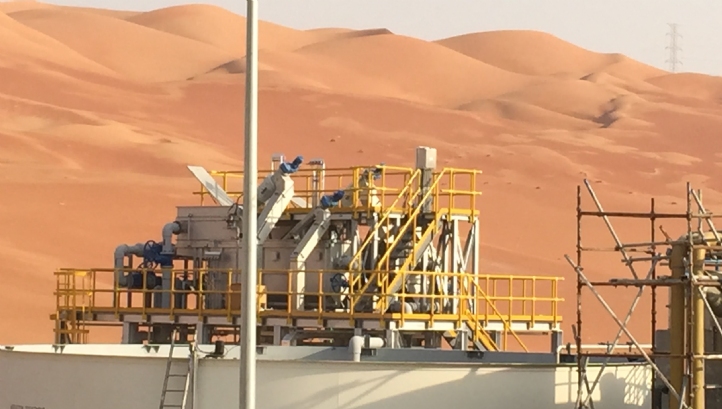 ACWA Emirates has completed a water reuse plant at Shaybah Oilfield, Saudi Arabia, for crude and natural gas exporter Saudi Aramco.
The new membrane bio-reactor (MBR) plant replaces a conventional sewage treatment works originally built by ACWA in 1997, and provides recycled water to irrigate landscaped green areas at the oilfield's residential complex.
The plant treats 750 m3/d of sewage water, with capacity to grow, and claims to deliver 99 per cent water recovery.
The design incorporates inlet pre-treatment headworks with screens, grit and fats, oils and greases removal; evaporation ponds with feed and return pump chambers; anoxic tanks; aeration tanks; and the MBR tank with air blowers, self-cleaning jet filters and controls and instrumentation.
An existing aeration tank was upgraded and modified to serve as a balance tank, and the existing sludge drying beds were retained — ACWA was "careful to re-use plant elements where possible," it said.
ACWA managed all aspects of design, engineering, installation and commissioning for the new plant, including a six-month operation and maintenance package to provide assistance and training.
"Selecting ACWA for this second wastewater treatment plant at the expanding Shaybah oilfield is a great endorsement of our capabilities. We developed a robust solution capable of handling the harsh desert environment, built around our MEMTREAT MBR technology, to meet Aramco's strict environmental goals for effluent quality and water reuse," said ACWA Emirates managing director Gary Jackson. The 20-month project was handed over in December 2016.
ACWA describes its MBR solution as "a compact wastewater treatment solution that provides a high quality disinfected effluent without the requirement for primary or secondary clarification, or tertiary treatments associated with conventional activated sludge processes. A smaller footprint means a reduced requirement for extended civil works, and with fewer process stages the solution requires less intervention for preventative and corrective maintenance."
---
Comments
Login on register to comment