Spiral scoops innovation award for its 'disruptive' automatic self-cleaning filter
22 Jun 16 by desalination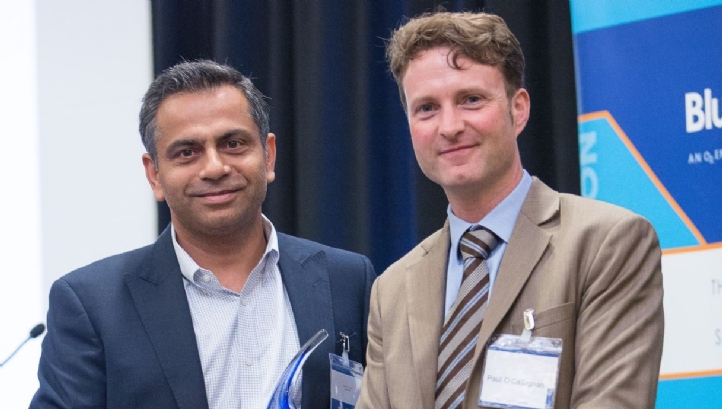 Spiral Water has picked up an Innovation Award from BlueTech Research for its automatic self-cleaning water filter, a "disruptive" new filter technology according to Spiral chief executive Ashwin Gulati.
The outfit won the plaudit after presenting results from a customer that saved $3,000 a day in its fertiliser business by replacing filters that frequently required new cartridges with a Spiral filter. The customer cut fertiliser product waste from 600 to 10 gallons a day, and achieved productivity gains by reducing downtime from 15 hours to two.
Spiral started out in 2012 when chief technology officer David Levitt and Gulati won a US government grant to research algae filtration, developing a distinctive spiral-shaped brush filter that continuously cleans the filter screen, without a backflush, and does not require high system pressure.
"We thought if you can filter algae, which is the most difficult thing to filter, you can filter anything. That's how it started four years ago. We've been working a lot on research and development, proving the concept, and doing a lot of tests. This is our year for coming to market, and presenting the technology," says Gulati, a seasoned entrepreneur with a background in steering early stage companies.
Of a global market for water filtration products of $61.2 million, Gulati estimates that macro filtration, including filter bags and multi-media filters, is worth 13.2 per cent, or $8.1 billion. Desalination accounts for 9 per cent of that $8.2 billion slice, or $733 million, the same size as the market for filters preparing water for marine ballast.
Spiral claims that its filter handles a high level of total suspended solids, as well as achieving low levels of water loss, energy usage, and a small footprint; that it's designed for difficult-to-treat waters; and is an appropriate pre-filter for desalination.
The company aims to challenge existing suppliers of automatic self-cleaning filters, as well as supplanting other macro filter products, including bags and media filters.
"That's why it's a disruptive technology, because we feel that we can expand the market opportunity of automatic filters, instead of it being a small portion of that $8.1 billion market, it could be a very large portion," says Gulati.
The company is now developing a larger filter unit to handle bigger flow rates. "Depending on what micron rating it is, we're talking about thousands of gallons per minute, which is what the market needs if we want to go after the big projects," Gulati says.
On presenting the Innovation Award, BlueTech Research chief executive Paul O'Callaghan cited Spiral Water for "outperforming its rivals while cutting both maintenance and energy costs."
---
Comments
Login on register to comment