Choosing the best desalination technology for your project
Recorded on 30 Jun 16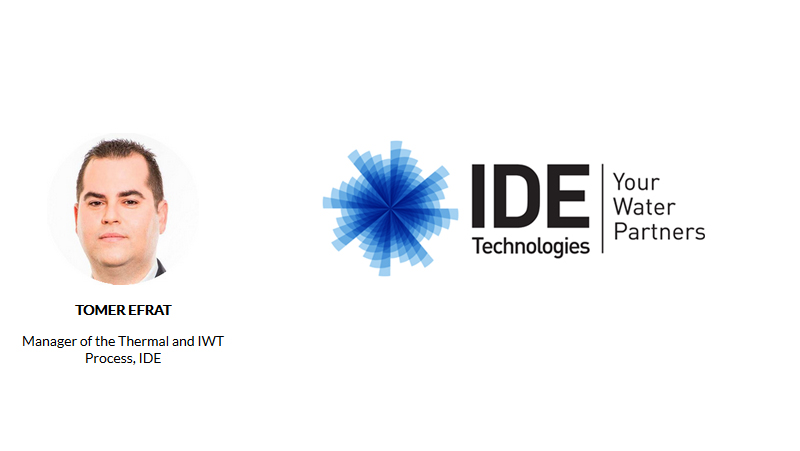 DE. Your Water Partners
A world leader in water treatment solutions, IDE specializes in the development, engineering, construction and operation of enhanced desalination, industrial water treatment and water reuse plants.
IDE leads the industry with some of the worldís most advanced thermal and membrane desalination plants. It has an especially well-proven track record in large-scale desalination, including some of the largest plants worldwide, (e.g. in China, India, US, Australia and Israel). IDE also provides modular solutions that allow for growth and IDE PROGREENô, a chemical-free reverse osmosis 'plant in a box'.
In addition, IDE has proven experience in ground breaking industrial water treatment plants with a comprehensive, integrated approach.
Working in partnership with a wide range of customers ñ municipalities, oil & gas, mining, refineries and power stations ñ on all aspects of water projects, IDE delivers approximately 3 million m3/day of high quality water worldwide.
IDE listens first and then brings technological leadership, proven reliability and consistent delivery to all our customers. Our highly experienced team knows that strong partnerships lead to success and growth.
IDE has teams in the US, Canada, China, India, Australia and Chile, as well as the Israel head office, enabling full customer partnership anywhere in the world.
Main Topics to be discussed
Recent years have seen many developments in seawater desalination technologies, making the choice between the alternative solutions far less obvious. Should the technology of choice be membrane based, thermally driven or maybe other emerging technologies in the field of seawater desalination?
Some technologies show competitive equipment prices, but require high investment in installation. Others require extensive pretreatment, while yet others provide a more robust design that can handle more challenging water.
The differences between the technologies also include parameters such as power & chemical consumption, footprint, ease of operation, and many more. In this webinar we will try to clarify the picture, based on actual design, installation and field experience of over 400 plants around the world, in both membrane and thermal technologies.
We will look at the advantages of the seawater desalination technologies available today and examine the factors that affect the CAPEX and OPEX of each technology. You will leave the webinar equipped with the tools to better understand and define the most optimal solution for your upcoming