Texas Desal 2017: Developing a Drought-Proof Water Supply,
21/09/2017 to 22/09/2017 Austin, TX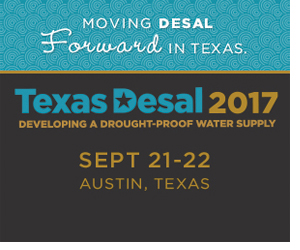 Texas Desal 2017 is the 5th annual conference of the Texas Desalination Association. This two-day event brings together water planners, water developers/financiers, policymakers, regulators, water utilities, engineers, consultants and researchers on the leading edge of Texas's (and the world's) water supply.
Learning, sharing and networking opportunities abound at this popular water industry event where 15-20 exhibits and 300 industry professionals are expected. This year the conference is focused on desalination as drought-proof water supply. We will look at costs and innovation for both brackish groundwater and seawater.
We're moving desal forward in Texas.
Add to Calendar
21/09/2017
22/09/2017
Europe/Paris
Texas Desal 2017: Developing a Drought-Proof Water Supply,
Texas Desal 2017 is the 5th annual conference of the Texas Desalination Association. This two-day event brings together water planners, water developers/financiers, policymakers, regulators, water utilities, engineers, consultants and researchers on the leading edge of Texas's (and the world's) water supply.Learning, sharing and networking opportunities abound at this popular water industry event where 15-20 exhibits and 300 industry professionals are expected. This year the conference is focused on desalination as drought-proof water supply. We will look at costs and innovation for both brackish groundwater and seawater.We're moving desal forward in Texas.

http%3A%2F%2Fwww%2Etexasdesal%2Ecom%2Fevents%2F2017%2Dconference%2F
Austin, TX
true
DD/MM/YYYY
Visit event website