Membrane Technology Conference & Exposition
13/02/2017 to 17/02/2017 Long Beach, California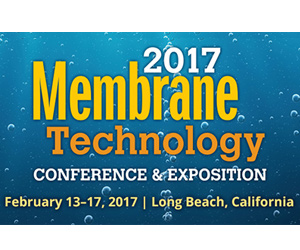 Join AWWA and AMTA to explore how the latest developments in membrane technology can enhance water reliability and quality. Each year the conference reveals new directions in water and wastewater treatment technologies, desalting and membrane bioreactor applications.
All members enjoy registration discounts. Join us today!
AMTA Membership Information
AWWA Membership Information
For all registration questions, please contact AMTA's Florida office at CustSrv@amtaorg.com or phone 772.463.0820.
Online registration is preferred. If necessary, a printed Registration Form (PDF) may be submitted to AMTA, followed with payment via phone.
---
Hotel & Venue Information
Three hotels are arranged for the 2017 MTC. Please book early as there are a limited number of rooms available at each property.
Hyatt Regency Long Beach
200 South Pine Avenue
Long Beach, CA, 90802
Rate: $239 plus tax
Book Hyatt Now
Renaissance Long Beach Hotel
111 E Ocean Blvd
Long Beach, CA 90802
Rate: $239 plus tax
Book Renaissance Now
Courtyard Long Beach Downtown
500 E 1st St
Long Beach, CA 90802
Rate: $199 plus tax
Book Courtyard Now
Hotel deadline is January 19, 2017 or until block fills - whichever happens first. Please book early for best selection.
All three hotels are conveniently located within 4 blocks walking distance of the Long Beach Convention Center.
All conference events will take place at Long Beach Convention and Entertainment Center, 300 E Ocean Blvd., 90802
Hotel Alert: AMTA and AWWA are aware of non-authorized organizations contacting attendees to solicit hotel rooms. For your protection, never reserve hotel accommodations thru a phone or email solicitation. Please use only the official link above to book your room. Reservations made through any solicitor cannot be guaranteed by AMTA/AWWA and could result in hidden charges, unusual restrictions, incorrect hotel placement, or unauthorized credit card transactions. If you are solicited, please forward the information to lodging@awwa.org.
Add to Calendar
13/02/2017
17/02/2017
Europe/Paris
Membrane Technology Conference & Exposition
Join AWWA and AMTA to explore how the latest developments in membrane technology can enhance water reliability and quality. Each year the conference reveals new directions in water and wastewater treatment technologies, desalting and membrane bioreactor applications.Register OnlineAll members enjoy registration discounts. Join us today! AMTA Membership Information AWWA Membership Information For all registration questions, please contact AMTA's Florida office at CustSrv@amtaorg.com or phone 772.463.0820. Online registration is preferred. If necessary, a printed Registration Form (PDF) may be submitted to AMTA, followed with payment via phone. Hotel & Venue InformationThree hotels are arranged for the 2017 MTC. Please book early as there are a limited number of rooms available at each property.Hyatt Regency Long Beach 200 South Pine ...

http%3A%2F%2Fwww%2Eamtaorg%2Ecom%2Fawwa%2Fmtc17reg
Long Beach, California
true
DD/MM/YYYY
Visit event website