XI AEDyR International Congress
19/10/2016 to 21/10/2016 Valencia, Spain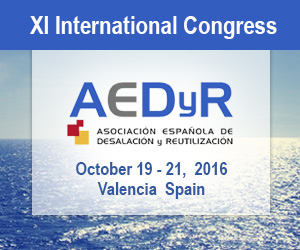 The Spanish Association of Desalination and Reuse (AEDyR) will hold its 11th International Congress in the city of Valencia on the 19th, 20th and 21st of October 2016.
The AEDyR International Congress has become one of the most important and influential events in the world of desalination and reuse. The 10 editions of the event held over the last 15 years have enjoyed significant scientific success and the participation of leading professionals in the field.
Valencia, Spain's third largest population centre, is located on the Mediterranean coast and is an ideal venue for this biennial International Congress. The city has numerous technical and cultural attractions, as well as excellent national and international transport links. The Autonomous Community of Valencia has a large number of large water treatment infrastructures, including desalination facilities, and the region is a leader in state-of-the-art water reuse technology. As in other nearby Mediterranean regions in southeast Spain, optimum water management is vital to Valencia, due to the scarcity of resources required to meet growing demand.
The papers presented at the Congress will cover all the most significant innovations and developments in the fields of desalination and reuse, with particular emphasis on the latter. The event will also feature visits to large-scale facilities. Given the importance of the topics to be dealt with, invitations will be extended to those responsible for water matters in other countries faced with problems of scarcity or quality, and a specific session will be devoted to their needs and projects.
The AEDyR is an umbrella association for virtually all the most important companies in the sector (engineering companies, construction companies, operators, suppliers, etc.), as well as academic and public institutions with interests in the water sector. The association has important international contacts and thus benefits from the sharing of experiences and developments in water treatment, especially in terms of quality standards, energy consumption, new technologies and environmental protection. All of the above ensures that this event will be of the utmost scientific, technical and professional interest.
We are pleased to invite you to participate in this Congress, which will afford excellent opportunities to make professional contacts, whilst enjoying the social and cultural charms of the city of Valencia.
Yours faithfully, The Organising Committee
Add to Calendar
19/10/2016
21/10/2016
Europe/Paris
XI AEDyR International Congress
The Spanish Association of Desalination and Reuse (AEDyR) will hold its 11th International Congress in the city of Valencia on the 19th, 20th and 21st of October 2016.The AEDyR International Congress has become one of the most important and influential events in the world of desalination and reuse. The 10 editions of the event held over the last 15 years have enjoyed significant scientific success and the participation of leading professionals in the field. Valencia, Spain's third largest population centre, is located on the Mediterranean coast and is an ideal venue for this biennial International Congress. The city has numerous technical and cultural attractions, as well as excellent national and international transport links. The Autonomous Community of Valencia has a large number of large water treatment infrastructures, including desalination facilities, and the r...

http%3A%2F%2Fwww%2Eaedyr%2Ecom%2Fcongresovalencia2016%2F
Valencia, Spain
true
DD/MM/YYYY
Visit event website