Top 10 most read stories of 2016
It was a big year for desalination and water reuse, with two major businesses up for sale, and mega plants grabbing the headlines. We present our top 10 most read stories of 2016.
1. GE to sell Water & Process Technologies business
The story of the year was GE's announcement that it wants to sell its Water & Process Technologies business. Taking everyone by surprise in October, GE said it wants to complete a sale by the middle of 2017. It followed GE's decision to combine its Oil & Gas business with oilfield services group, Baker Hughes, and sparked speculation as to whether the business can be sold as a single unit, or will be broken up.
UPDATE: GE reports 'significant interest' in GE Water from potential buyers, 25 January 2017
2. Interview: IDE Technologies CEO Avshalom Felber
In an exclusive interview with Water. desalination + reuse, IDE chief executive Avshalom Felber shared his thoughts on the future of desalination and water reuse technologies and markets, while the company's owners continued in talks aimed at selling IDE. While the intention was to close a deal by the end of 2017, the sale process has been hit by "minor delays," Felber said.
3. Who will buy GE Water & Process Technologies?
GE's proposed sale of Water & Process Technologies sent out ripples of speculation through the water technology sector over who will buy the business. Desalination plant operators eyed the more than 30 own and operate contracts that GE has for desalination plants in the Carribbean, while GE said it wants to sell the business "in its entirety," making a private equity buyer the more likely outcome.
"GE has chosen to divest the Water & Process Technologies business in part due to the size and the complexity of the GE Oil & Gas and Baker Hughes deal, and because of certain capital allocation considerations," said Ralph Exton, GE Water & Process Technologies chief marketing officer.
4. Sulzer to expand pumps portfolio with Ensival Moret acquisition
Pumps manufacturer Sulker caught readers' attention with news that it will acquire competitor Ensival Moret for Euro 80 million ($86 million). The deal will help to close specific product gaps in Sulzer's portfolio, adding axial flow pumps to its offer. "We are very excited with the proposed acquisition of Ensival Moret, and we are looking forward to welcoming its employees to Sulzer. Together we can grow stronger in our general industry business by serving our customers' process needs," said president of Sulzer Pumps Equipment, Cesar Montenegro.
5. Desalitech hires new faces to support next phase
A change of management at Desalitech was a hot topic during 2016, as the company announced two new senior hires. Dr Terry Mah, former chief executive of Veolia North America, and Ed Lieberman, formerly of fuel cell manufacturer Bloom Energy, joined following a period of "significant sales growth attributed to selling and installing dozens of systems to new and existing customers," the company said.
6. Largest desal plant in the West gets the green light in Mexico
A mega-size desalination plant planned for Baja California, Mexico, topped the news ratings in June 2016, a couple of months before the public-private partnership between Consolidated Water and Baja state was finalised. The project to build and operate the largest seawater desalination in the Western hemisphere is now working to achieve financial close by early to mid-2017, Consolidated Water vice president and chief operating officer, John Tonner, told Water. desalination + reuse in an in-depth interview.
"The magnitude of it in terms of a global desal project, and the size and importance of it to Baja Norte -- it's the region's biggest infrastructure project ever, and one of the biggest public-private partnerships anywhere in Mexico -- is very exciting. It's a really big deal for the region's water supply, and not just in Tijuana, but also in San Diego, California." John Tonner, vice president and chief operating officer of Consolidated Water.
7. AquaSure's Victorian Desalination Plant fulfils its first water order
Another mega plant made the top 10 most read stories in 2016, as Victorian Desalination Plant, Australia, fulfilled its first order since being commissioned in 2012. The plant can produce 150 gigalitres when running at full capacity; the order was for 50 gigalitres, bringing one of three separate RO streams online.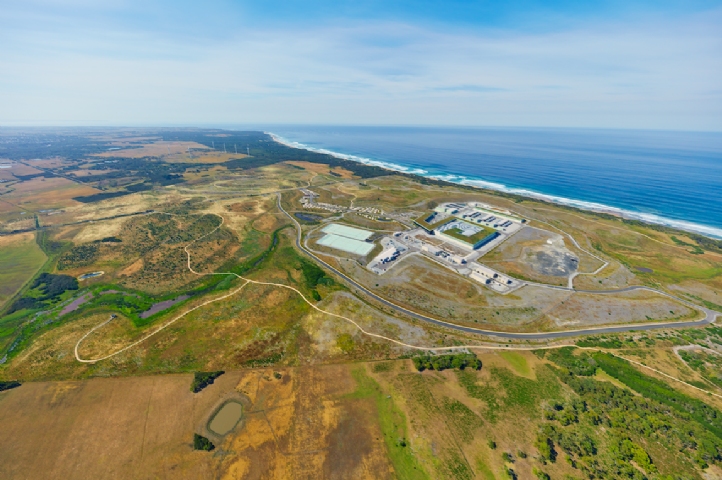 The Victorian Desalination Plant is located at the southerly most tip of Australia on the Bass Coast

8. Dubai prepares to add desalination capacity at Jebel Ali Power Station
Dubai Electricity and Water Authority hit the headlines when it awarded a $4.4 million advisory services contract to an unnamed company for a new 182,000 m3/d desalination plant in August 2016. The new plant at Jebel Ali power station, the largest power production and desalination site in the United Arab Emirates, will mark a shift for Dubai away from multi-stage flash distillation to reverse osmosis technology.
9. IDA celebrates leaders in global water reuse with new awards scheme
The International Desalination Association (IDA) unveiled the winners of the inaugural Water Reuse and Conservation Awards in October 2016, with winners including Dr Masaru Kurihara, fellow at Toray Industries and senior scientific director of the Mega-ton Water System Project; Veolia Water Technologies, France; and Orange County Water District, California.
10. China's CCCC tables a $650 million bid for IDE Technologies
The sale of IDE Technologies was in the news in August 2016, when Hong Kong Stock Exchange-listed company China Communications Construction Company tabled a $650 million bid. The price was below the $700 million to $1 billion range, which IDE Technologies' parent companies Delek Group and Israel Chemicals reportedly want for the business.
© Faversham House Group Ltd 2016. Water. desalination + reuse news articles may be copied or forwarded for individual use only. No other reproduction or distribution is permitted without prior written consent.