Valves for SWRO by Flowserve
Reverse osmosis systems require numerous valves capable of handling large volumes of water at high pressures. These valves must also be made of materials capable of resisting corrosion from the chloride-rich water and commonly used chemicals.
---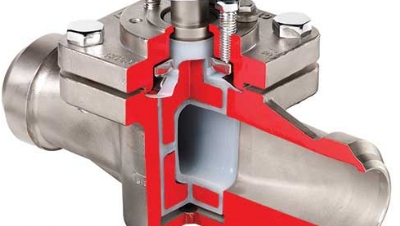 High-Pressure Membrane Plug Valves
The most demanding application for valves in the SWRO process is in the high-pressure membrane area, where both the pressure and the chloride content of the water are high. The Durco® PlugSeal valve, available in sizes to 400 mm (16 in), has been specifically designed for high-pressure membrane service in SWRO.
Made of super duplex stainless steel to resist pitting and crevice corrosion, the Durco PlugSeal is an ASME Class 600 plug valve. Instead of a discrete seat, which is difficult to replace if damaged, the PlugSeal features a PFA-lined plug that rides directly on the machined body. This design greatly facilitates maintenance, as the valve can be readily disassembled and reassembled while in line. It also makes installation easier. The customer has the option of welding the complete, assembled valve into the pipeline or removing the heat-sensitive internal parts prior to welding to avoid potential damage.
See how Flowserve offers a complete range of valves to suit the diverse applications found in SWRO desalination at: www.flowserve.com/desal