Pressure Vessels for membrane filtration systems
The models are designed for continuous use as housing for membrane filtration elements to purify typical waters at any positive pressure up to 1000 PSI. The design will accommodate any make of four-inch nominal diameter spiral-wound element as well as many hollow fiber elements. The element interface hardware for the specified element is supplied with the vessel. The models have been designed to meet the standards of the American Society of Mechanical Engineers (ASME)
---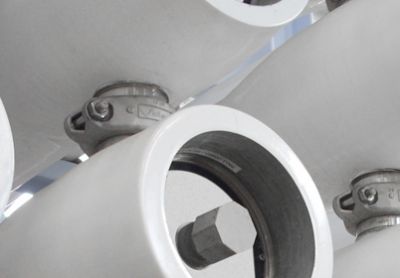 We understand that these products are
expected to last the entire life of the RO system. In order to help
ensure the life of the pressure vessel, we have selected the best
materials and used the best fabrication methods available in the
manufacturing of our products. When you select PROTEC™ products, here
are some of the benefits you receive.
Operational Excellence and First Time Quality
First time quality and Operational Excellence are a permanent focus for
our employees, allowing Protec Arisawa to meet the highest level of
quality, scheduled shipments and other customer expectations.
Leak Free Reliability
PROTEC™ pressure vessels are tested as an assembly including the
specific heads that will be shipped with each vessel. This attention to
detail allows us to claim the best leak-free reliability record in the
industry. We understand that no one likes to deal with leaks caused by
poor workmanship, low quality materials and insufficient in-house
testing. With Protec Arisawa, you receive high quality leak-free
vessels, first time every time.
Pressure Vessels Available with an ASME Code Stamp
Upon request, PROTEC™ pressure vessels can be supplied with an ASME
Code stamp and if requested, a National Board Registration number. The
ASME Code is an internationally recognized safety standard written
specifically for fiber reinforced plastic pressure vessels.
Pressure Vessels for membrane filtration systems does not have any posts.