Plants for producing freshwater directly from seawater
Using 2-pass RO system! 5
---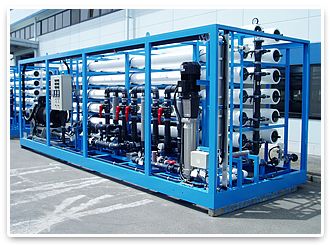 Highly flexibility enabled for
producing water of the preferred quality Users can acquire water of the preferred quality within the range of TDS 10.0 ppm to 500.0 ppm of treated water. The highly flexible features of the plant will ensure water of optimum quality for your own purpose.
Superior products created by
high-technology By using 2-pass RO system which has been created by fully utilizing high-technology, the water produced is of equivalent quality with that produced by the evaporation method. The RO-method has lower costs when considering facilities costs and running costs.
Plants for producing freshwater directly from seawater does not have any posts.