Genesol 30 Membrane Biocide
Genesol 30 is a fast acting
---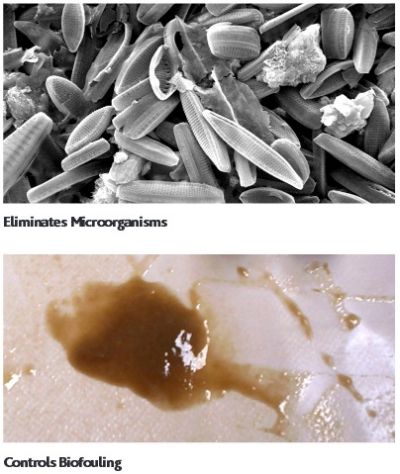 Genesol 30 is also effective in removing biofilm from pumps, tanks and pipe-work. Best results are obtained when Genesol 30 is used at a pH 5.5 – 7.0. Residual Genesol 30 can be deactivated to harmless byproducts
by using sodium bisulphite. Genesol 30 is readily biodegradable in the environment; the degradation rate is enhanced at increasing pH and temperature
Application
When used 'off-line' as a membrane cleaner, Genesol 30 should be dosed at 40 – 80mg/l for periods up to 60 minutes. Following use, the membranes should be flushed and cleaned using an alkaline detergent such as Genesol 40 or Genesol 703.
When used 'on-line' in non-potable applications Genesol 30 should be dosed at 100 – 200mg/l for 30 minutes. Pre-diluting Genesol 30 prior to use is not recommended as this will cause rapid degradation of the solution and loss of efficacy.
Health and Safety
Genesol 30 is based on an organo-bromine compound. It is corrosive to carbon steel and certain other alloys so all pumps, pipe-work and tanks should be made from acid resistant materials. A material safety data sheet is available on request.
Classification
CHIP: Harmful | UN: Corrosive
Packaging
Available in 25 kg kegs, 250 kg drums and 1,200 kg IBCs. The shelf
life of Genesol 30 is 12 months when stored in a cool place. At
ambient temperatures above 20ºC the shelf life of Genesol 30 may
be significantly reduced.
Product data Sheet
✓
Suitable for use in Reverse Osmosis (RO) and Nano-
Filtration (NF) membranes
✓
Effective against most micro-organisms
✓
Fast acting – short contact time needed
✓
Compatible with all polyamide membranes
✓
Easily deactivated to harmless by-products
✓
Can be used to clean pre-treatment systems
Eliminates Microorganisms
Controls Biofouling
Typical properties
Appearance:
pale amber liquid
pH as supplied:
1.5 – 5.0
Specific gravity:
1.20 – 1.30
Freezing point:
< – 50°C
The information provided in this data sheet is believed to be true and accurate.
Genesys International Ltd. accepts no product liability as the use of its products are outside the company's control.