A leader for integrated solutions
ABB combines in-house technology with extensive process know-how to develop complete engineered packages such as eBoP (electrical Balance of Plant) and I&C (Instrumentation and Control) systems. We serve developers to optimize the entire life-cycle energy costs
---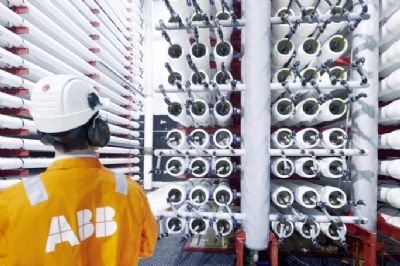 Motor and drives: a choice to increase efficiency
Motors and drives can drastically affect the long-term operational management of water plants, especially for desalination based on reverse osmosis technology, as high pressure pumps require a large amount of energy that represents a key component of the operational expenditure.
ABB is a leader in high-efficiency motors. Our class EFF 1 motors – the most efficient category of motors – provide energy savings up to 20%. ABB variable speed drives (VSD) are used to control the motor speed of pumps, with a guaranteed 30% to 60% energy savings. They also reduce mechanical and electrical stress on pump components and improve mechanical components life.
 
Electrical Balance of Plant (eBoP)
ABB offers integrated electrical Balance of Plant (eBoP) solutions for desalination plants. We have the knowledge to assess the degree of customization required, and we have the electrical products and services to create a fully integrated application. Electrical balance of plant covers electrical equipment and systems from pumps to grid connection, ensuring that the plant runs efficiently, safely, and reliably: ABB eBoP solutions include high-voltage substations, grid connections, medium-voltage systems, low-voltage systems, emergency systems, and facility management. ABB is a single source for design, engineering, supply, installation, commissioning, testing, and maintenance, reducing the cost of ownership.
 
Instrumentation and Control (I&C)
ABB distributed control systems (DCS) and PLC platforms provide an innovative, consistent, and comprehensive information management platform for desalination plants.
The DCS handles all plant operations as well as information management (historian functions, archiving, reporting, performance calculations) and optional added-value applications, such as performance monitoring & optimization for different desalination technologies, Pump Efficiency Monitoring System (PEMS) and vibration monitoring.
ABB's instrumentation portfolio includes flow, pressure, and level measurement, recorders, and quality analyzers.
Field devices, instrumentation, and control systems can be easily integrated to deliver complete plant automation solutions.
 
Hybrid Desalination: Performance Monitoring and Optimization
In combined water and power projects, hybrid desalination is a solution in which two or more different desalination technologies are used (e.g. MSF and RO) in the same plant, allowing multiple possibilities of optimization, especially in the area of fuel conservation and efficient use of thermal and electrical energy.
The challenge lies in large range of operation possibilities, which exist in short term and long term operation planning.
ABB solutions allow economical optimization and address load scheduling, hybrid optimization, MSF Optimization, process optimization, or work process optimization.
ABB News 
ABB helps convert Indian Ocean into drinking water supply for Western Australia
India's largest seawater desalination plant
Solutions for the water industry
ABB supplies power and automation solution for India's largest seawater desalination plant
ABB solution to provide fresh drinking water for desert city
ABB solution reduces energy consumption in membrane desalination plants
ABB technology helps secure Sydney's water needs
ABB technology will help bring drinking water to millions in Algeria
ABB brochures

Products and solutions for desalination
Products and solutions for the complete water cycle
ABB products for the complete water cycle
Technical publications
ABB Review 4/2011 – Water

Advanced SWRO – Controlling membrane fouling and thus energy consumption

Condition monitoring for membrane systems (WWA Dec./Jan. 2011)
Untroubled waters: A flexible, compact and efficient solution for oil and water separation technology
Water Supply Technology (ABB Review 02-2008)
Reference case descriptions
Jeddah Reverse Osmosis Desalination Plant Phase 1
Jeddah Reverse Osmosis Desalination Plant Phase 2
Yanbu Reverse Osmosis Desalination Plant RO-1
Performance Monitoring & Optimization – Fujairah Water and Power Plant
A leader for integrated solutions does not have any posts.