Download the Dequest Italmatch Chemicals Reverse Osmosis & Thermal Desalination Brochure:
15 September 2016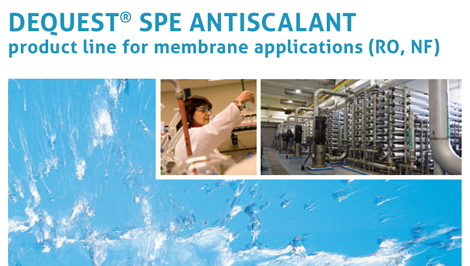 The Dequest Business is offering unique specialty additives to meet the needs of these industries involved in water management or deal with processes or applications where water plays a crucial role. More than 40 years ago, Dequest pioneered the development of phosphonate based antiscalants. Dequest phosphonates have been the product of choice for antiscalants / dispersants / corrosion inhibitors / chelants in various applications for many years. Today, Dequest offers a broad range of water management additives including Dequest phosphonates, Dequest P acrylic / maleic based (co-) polymers, Dequest PB biological polymers and tailor made products for specific applications. Dequest phosphonates and polymers are used worldwide in a broad spectrum of markets and applications, including industrial water treatment, household & industrial detergents, industrial cleaners, enhanced oil recovery operations and various industrial processes such as desalination, pulp production & bleaching of paper as well as textiles.
During the last decade, throughout our R&D, continuous improvement and practical experiences, we have developed a full range of ready-to-use RO antiscalants, cleaners and associated services (e.g. product selection software) for the desalination markets.
Our ready-to-use products for RO are based on Dequest water additives and cover the complete spectrum of functionalities required to effectively control the formation of most of the scales on membranes.
Our ready-to-use RO antiscalants and cleaners range carry approval from major membrane manufacturers.
For potable water applications we have a full product range complying with NSF/ANSI Standard 60 certification.








N.B. The information contained in this entry is provided by Italmatch Chemicals Spa, and does not necessarily reflect the views and opinions of the publisher.



© Faversham House Group Ltd 2016. Water. desalination + reuse articles may be copied or forwarded for individual use only. No other reproduction or distribution is permitted without prior written consent.