Case study: Larnaca SWRO Plant Renovation - design, installation and commissioning
7 June 2016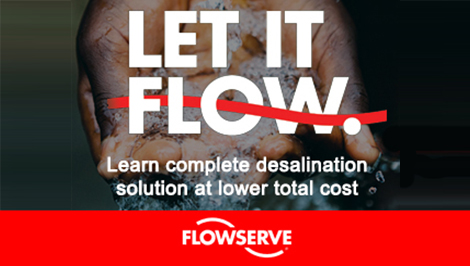 Learn how Flowserve worked closely with the Cyprus Water Department and M.N Larnaca to provide low-cost drinking water for 16 million people, for many years to come.
The original Larnaca desalination plant was built and put in operation more than 10 years ago on a BOOT (Build, Own, Operate, Transfer) basis. It had been successfully operated for a decade and was improved several times to achieve higher capacity and better performance. Due to the growing demand of water and the increasing energy costs in Cyprus, the owners investigated an improvement plan for it, including highly efficient, state of the art equipment like isobaric energy recovery devices.
In 2011 it was decided to build a new desalination plant within the existing building layout with new highly efficient equipment, rather than retrofitting the existing installation, and a new tender was issued. By contracting with one supplier for both the DWEER™ energy recovery devices and all the main pump services, the engineering procurement and construction company was able to gain significant efficiencies not previously experienced.
This paper outlines the development, installation and commissioning of the new SWRO plant at Larnaca, and the benefits of having a one-supplier contract.
Case study contents:
Introduction
New Larnaca design in 2013
New high-pressure membrane feed RO train design
Improved high-pressure pumps
Improved energy recovery system
Optimised energy recovery system
Installation
Commissioning




N.B. The information contained in this entry is provided by Flowserve Corporation, and does not necessarily reflect the views and opinions of the publisher.



© Faversham House Group Ltd 2016. Water. desalination + reuse articles may be copied or forwarded for individual use only. No other reproduction or distribution is permitted without prior written consent.