Water Treatment for Power Generation
Hager + Elsässer are one of the major players in the supply of water and wastewater treatment systems to Europe's power generation market. We supply the whole range of water-related systems to companies such as RWE
---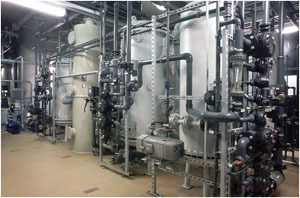 DI water make-up systems are supplied to suit the full range of raw water types, including sea water, brackish water, mains (city) water and borehole water, each fully guaranteed to produce the required treated water quality, which varies internationally. Technologies used include counter-current regeneration, floating bed, packed bed, stratified bed, UpCoRe, Kontimat continuous systems, and membrane technologies including reverse osmosis and EDI.
Condensate polishing systems include a range or pre-filtration stages, ion exchange and chemical dosing systems for ammonia and oxygen treatment etc. Mixed bed systems are configured with either internal or external regeneration.
Cooling Tower make-up systems can include both conventional physico-chemical and membrane techniques for the removal of suspended solids, iron & manganese, silica, hardness and organics, and can included H+E's own patented processes.
Wastewater treatment is required for the various backwashing and regeneration processes included in water treatment systems, and also for other site processes including ash cooling, flue gas systems, and general site facilities.
We can supply a reference list of many satisfied clients plus more detail about particular applications across a very wide range of sizes and types of systems. If you would like to receive more information, please contact us.