Unexploded Ordnance (UXO) Desk Study with Risk Assessment and Mitigation Strategy (EES)
As with all disciplines within the civil engineering and contaminated land industries
---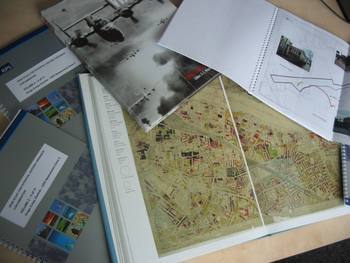 The requirement for a UXO Contamination Desk Study should be identified in the initial stages of project planning and it is recommended that this occurs before the start of any detailed design. This will enable the client to place a provisional sum on expenditure that may be required to address risks from UXO and may enable the project team to identify appropriate techniques to eliminate or reduce potential risks through considered design, without the need for UXO specific mitigation methods.
The initial stages of the study would consider the nature of the site and the scope of the proposed project.Typically on sites in large towns and cities the primary threat will come from either British Anti-Aircraft Artillery shells or German air-delivered bombs. However at the early stage of a site assessment the presence of British Land Service Ammunition or Small Arms Ammunition cannot be discounted. RPS has been involved with a number of projects where Home Guard munitions have been encountered.
It is essential that the history of a site is considered as the threat may have been reduced by deep post War development/excavation or previous Bomb Disposal Operations. It is possible that on sites that have been developed post-WWII, that the risk may have been mitigated to a certain degree. RPS would propose to review the historical mapping to establish the site history, with emphasis on any changes to the site pre and post war and additionally any post war development that may have taken place on site.
RPS EES would typically consult the following sources to obtain historical information regarding UXO contamination:
· Local Archives
· National Archive in Kew
· Royal Engineers – Explosive Ordnance Disposal (EOD) Archive
· Aerial photography from National Monuments Archive
· Various other Ministry of Defence (MoD) establishments
· Official Abandoned Bomb Register
· Governmental Departments who deal with UXBs and Emergency Planning
· RPS in-house historical database

Contact for more information:
Lawrence Millett: 0845 638 4760 or 01322 312 081