Odour Control Plant for Waste Transfer Station
Simdean have recently successfully installed and commissioned an odour control plant at a Waste transfer Station. The station which takes in general domestic waste is housed in a single building with building volume of approximately 15
---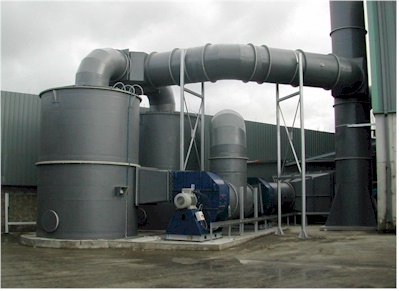 The odour control plant which comprises a filter for removal of particulate matter from the air stream, followed by a pair of adsorption vessels, consisting of annular carbon beds for odour removal.

Extract fans fitted with variable speed drives allow the extraction rate for the building to be varied in line with the operations within the building. At times of low occupancy / work patterns the extraction rate can be reduced to a minimum thus reducing the overall power demand of the odour control system.

The overall plant is capable of dropping the odour levels emitted from the building by more than 95%

If you wish to know more about Simdean's approach to odour control and general air pollution control systems contact Nick Carter on +44 (0) 7831 807238 or via email using the link below.