Odour Control For the Rubber Industry
This unit was for the rubber manufacturing industry for a company called Interfloor Limited This unit has a maximum flow rate of 70000 Nm3/hr. The Thermal Oxidiser has a Bypass arrangement and features a burnout facility
---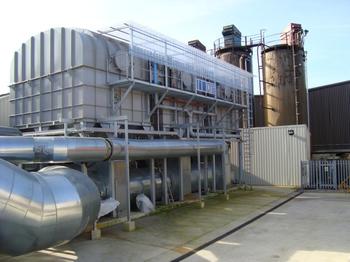 The unit was one of two Regenerative Thermal Oxidiser systems being installed by Interfloor. The second unit being installed at Interfloor's  Hasllingden site.

The Thermal Oxidiser was installed and commissioned in  September 2007 in Dumfires.

Due to the manufacturing process from the 4 lines, the raw gas exhaust stream was varied in component make up.

The Thermal Regenerative Oxidiser unit was designed and manufactured according to the severity of the process.

The control system was Allen Bradley with a option of allowing remote access.

The system has a bypass  arrangement allowing continuous operations, even if  the Thermal Oxidiser was stopped. The unit has a Burnout facility which is used to clear the ceramic media for build ups as  and when necessary.

The main fan was a 355KW which incorporated a back up  invertor at the customers request.

For acceptance, the unit was monitored for:

· VOC's –                      4mg/m3   (below limit of 20mg/m3 )
· CS2 –                         1mg/m3  (below limit of 5mg/m3 )
· Odour –                     544OuE/m3  (below limit of 350-550 OuE/m3)                            (Incoming was  180,000OuE/m3  )
· Particulates –            1mg/m3   (below limit of 50mg/m3 )