MAXIMIZING MEMBRANE LIFE: LESSONS LEARNED FROM A THREE YEAR STUDY ON PERFORMANCE RECOVERY.
This paper reviews 248 studies that were carried out over three years from 2012 to 2014.
---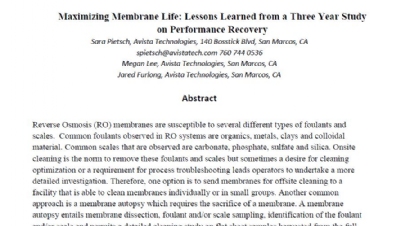 The data collected included brackish, seawater and nanofiltration membranes. This body of analytical work gives a definitive statistical representation of the most common types of foulants. It also highlights fouling patterns such as the proportion of membranes that contained multiple foulants and/or scales. The effect of each foulant and/or scale on the flow and differential pressure. Additionally, the recoverability of RO membranes was analyzed and compared to the foulants and/or scales present.
To read the full paper, click here to download.