Laying the corner stone for a waste water treatment plant in Serbia
Hager + Elsässer are building a sophisticated wastewater treatment plant for a yeast factory in Serbia. The cornerstone was laid at a recent ceremony
---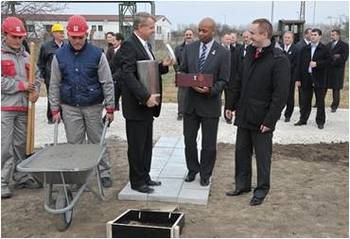 Alltech Fermin in Senta, Serbia is a food production plant, manufacturing yeast products. In the past, the wastewater resulting from the yeast production process was insufficiently treated which led to an adverse environmental impact.
Hager + Elsässer offered a solution which quickly convinced the regional management of Alltech Fermin as well as the municipal government of Vojvodina.
The wastewater from yeast production is reliably cleaned, producing biogas which is used for power generation. The waste heat generated is also utilized in the factory.
The key components in this highly sophisticated waste water treatment process are fermentation for biogas production, implemented as an EGSB (expanded granular sludge bed) unit, and an energy-saving aerobic treatment, which is realized in the first step as De-ammonification (Demon®).
Two Sequencing Batch Reactors, used for subsequent biological cleaning and a chemical precipitation step ensure adherence to the discharge limits required.
To complete the system, treatment for sludge and discharged air will be installed, as well as two cogeneration units including biological sulphur elimination. The waste water treatment plant is designed for a capacity of 2500 m³ waste water per day. The biogas generated by the process will allow 1400 kW of electricity to be generated, which will be used in the manufacturing process.
Not only will this waste water treatment plant provide a considerable contributing to environment protection, but the municipality government is hoping it will provide the basis for new jobs to be generated in the region. As a result of this, the media interest in the ceremony was considerable.