Large Diameter Pipelines
Frazer and Tabberer supplied approximately 18km of 1220mm diameter pipe to the D2H Project in Northern Ireland in 2006.
---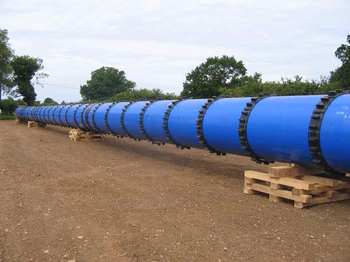 Frazer & Tabberer was chosen by Murphy Lagen Joint Venture to supply 18km of 1200mm diameter pipes for the Dunore to Hydepark Trunk Main Replacement Scheme in Northern Ireland. Better known as the D2H project, the scheme involved the laying of pipes, through mainly agricultural ground, to replace the old concrete main running from Dunore Water Treatment works (WTW) on the shores of Lough Neagh to Hydepark Service Reservoir in Mallusk.
This multi-million pound project safeguards the provision of high quality drinking water to around 400,000 people in Antrim and the greater Belfast area. The pipeline is capable of delivering 180 million litres of water per day.
The work was carried out in the summer of 2006. The pipes were strung out along the route, and then once they had been welded and the pipe trench excavated, the long lengths of pipe were lifted into place. The new pipe had some 1350 welds.
To minimise disruption to road users and the environment, major road and river crossings were carried out using innovative trenchless techniques.