Frazer & Tabberer Victaulic Joint
Frazer & Tabberer can supply various jointing methods specific to all requirements. Internal linings for potable water are in accordance with DWI 25 (1) (a) and 31 (4) (a). Internal linings for wastewater are in accordance with DIN 2614.
---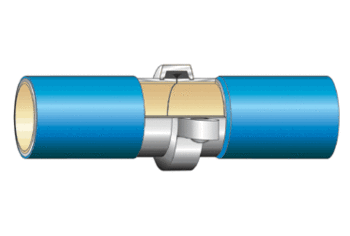 Victaulic Joint
Diameters: 80mm – 400mm
Steel Grades: ST37, ST52, API, ASTM A106, X42, X52, X60
Linings: Cement Mortar Lining to DWI 25 (1) (a), and Epoxy to DWI 31 (4) (a).
Protection: Blue 3 Layer PE; 3 Layer PP (both 1.8-4mm thick depending on OD); FBE (500 µm thick). Sewage pipes would be black in colour.
Uses: Potable Water & Sewage Sludge with different c/m or epoxy linings.
Internal Repair: No repair needed.
Pressure Rating: 5-60 bar depending on Victaulic fitting.
Realistic Usability: Fire mains & temporary pipelines.
Welding: No Internal Welding.
Fittings: Victaulic Fittings made to suit.
Aim: No corrosion, no leaks, no minimum longevity of life.
Soil Types:  Ideal for all soil types because of complete corrosion protection.