Frazer & Tabberer receives ISA & OHSAS accreditations simultaneously
Frazer & Tabberer Ltd is proud to be among very few
---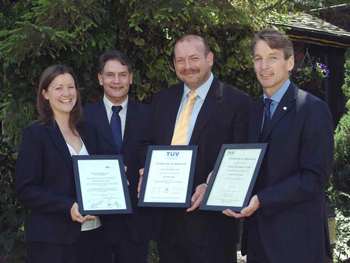 Dr Guy Tanner, Assessment Manager for TUV UK summed up his findings.  "The standards of operation at Frazer & Tabberer are exemplary.  To have taken on all 3 of these standards and applied them effectively and appropriately to the business needs is to be congratulated indeed".
As part of the process, Scottish-based company QEM Services was employed to design and implement an Integrated Management System.  IMS uses the latest online search engine technology, alongside a simple to use interface.  All required management documents and forms, including risk assessments, method statements and procedures are available, 24 hrs a day via a password protected website.  This ensures that current work practices are continually reviewed and monitored for suitability.
Duncan Frazer, MD of Frazer & Tabberer said, "We are absolutely delighted with our achievement which underlines our dedication and commitment to our customers".