Flagship ACWA MBR For Oman
ACWA MBR's flagship Al Ansab submerged membrane bioreactor wastewater treatment plant in Muscat
---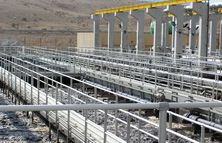 The SMBR plant, one of the largest in the world, will treat an ultimate population equivalent of 900,000, some 220,000m3/day. This initial stage will treat flows of 76,000m3/day using 304 double-deck MBR modules – a remarkable 121,600 panels in total.
ACWA was awarded the technology contract to supply the membrane units, undertake process design and assist with detailed design, engineering, installation and commissioning of this critical plant three years ago. Plant design was undertaken in collaboration with KAME, the Metcalfe & Eddy joint venture with Lebanese consultant Khatib & Alami.
The client, the Oman Wastewater Services Company (now Haya Water), opted to use MBR technology because it required a high-quality, economical water supply for irrigation. This is one of the main drivers in the region at the moment, as countries attempt to end reliance on expensive, drinking-water grade desalinated water for crop and landscape watering.
There was also little land available at the proposed treatment plant site, so the small footprint of the MBR system was a perfect match for OMC's requirements. ACWA MBR was chosen to supply the membranes because of the reliability of the system and the company's long experience with large-scale SMBR plants.
During treatment, screened and de-gritted wastewater flows by gravity through the eight MBR tanks. Sets of four membrane units are coupled together to give significant savings in pipework and valve costs, and an automatic chemical cleaning system ensures minimum fouling and system downtime.
The BNR (biological nutrient removal) design, which incorporates both aerobic and anoxic zones within the main treatment structure, also enables denitrification of the effluent. Tests have also found minimal total dissolved solids (TDS) of 500mg/litre in the plant's final effluent, equivalent to the US standard for drinking water.
The end result is an extremely high quality effluent that contains no bacteria, which means it can be used directly for irrigation and a variety of other uses such as watering parks, gardens, football pitches, tennis courts and golf courses.
ACWA managing director Peter Ripley says: 'The cost of cleaning wastewater to an extremely high standard using ACWA's state-of-the-art system is a fraction of the expense required to take saline water and bring it to potable water quality.
Membrane bioreactors are an extremely attractive option in the Middle East, where acute water scarcity means countries are increasingly looking to reserve expensive desalinated water for potable use alone. ACWA has sold 33 MBR plants in the region over the past five years, which is both a testament to the company's excellent reputation and the significant market for these systems.
For further information please email ACWA Services Ltd