Energy saving recuperative thermal oxidiser
LTG supply an air purification system that runs itself and the production process using surplus solvents.
---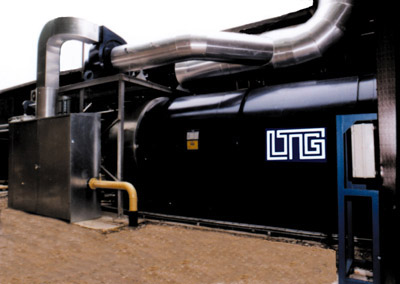 Freudenberg are manufacturers of none-woven fabrics based in Halifax. Their process produces a very high level of solvents in their 20,000 NM3/hr.exhaust air stream and when the local authority asked them to conform to the new environmental legislation, they decided to see if it was possible to get a return on their investments. Working with LTG a system was evolved which takes the exhaust air from their curing processes and oxidises the large amount of solvent it contains thus producing high temperature clean air. This air, containing all the energy liberated from the solvents is then passed through a waste heat boiler generating 6 tons of steam per hour. The steam is in turn piped back to the primary production process thus closing the energy loop resulting in much lower fuel bills.
The system was supplied as a turnkey project by LTG who took total responsibility for the installation.