Case Study: Repurposed RO Membrane Program and Rental Project Profile
Zero Liquid Discharge Power Plant Experiences Significant Operational Cost Savings By Utilizing Surplus Reverse Osmosis Membrane Elements
---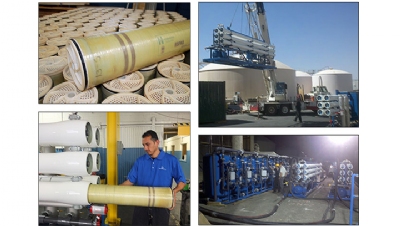 Project
The zero liquid discharge power plant in the case study outlined below realized additional operational cost savings by utilizing surplus reverse osmosis membrane elements purchased from Watersurplus to treat their cooling tower blowdown water.
Operational Cost Savinags
| | |
| --- | --- |
| Potential cost of new reverse osmosis membrane elements | $252,000 |
| Actual cost of surplus reverse osmosis membrane elements /td> | ($88,200) |
| Six-Month operational cost savings from using surplus membranes     | $163,800 |
---
Over 25,000 8-inch RO Elements Repurposed
Watersurplus, the leader in recycling surplus 8-inch RO membrane elements, has acquired and repurposed over 25,000 surplus reverse osmosis membrane elements. Historically, elements that no longer perform at their required rejection levels are sent directly to the landfill. However, many of these elements still have enough remaining life to perform at levels suitable for many applications including water reuse, low pressure boiler feed water and waste water applications. Advancements in membrane pretreatment, combined with our unique and innovative testing and cleaning process, allow Watersurplus to purchase, clean and test, repackage and repurpose these elements at significant cost savings to the user.
Industries around the world that have benefited from the purchase of surplus used and unused RO membrane elements from Watersurplus:
� Power
� Oil and Gas
� Mining
� Agriculture
� Ethanol
� Industrial Water Reuse
� Chemical Manufacturing
---
Zero Liquid Discharge Power Plant Project Profile
Equipment rental and surplus membrane element utilization allows ZLD plant to realize cost savings of over $3,000,000 in first six months of operation.
Cost Savings
| | |
| --- | --- |
| Disposal cost savings from treating 3,400,000 gallons of water onsite     | $3,400,000 |
| Cost of six month water treatment plant equipment rental |  ($250,000) |
| Hauling and disposal savings     | $3,150,000 |
Project
A zero liquid discharge power plant in the western United States was experiencing problems with their cold lime softening system resulting in an inability to send cooling tower blowdown water to the evaporator. As a result four million gallons of untreatable water had accumulated and needed offsite disposal or treatment onsite. Cost estimates for hauling and offsite disposal of the water was approximately $1.00 per gallon for a total of $4,000,000. Watersurplus was contracted to help mitigate the problem.
Process
Within two weeks of being contacted Watersurplus mobilized a temporary water treatment plant consisting of three 125 GPM multimedia filter tanks, three 125 GPM activated carbon filter tanks, two 150 GPM brackish reverse osmosis skids and one 75 GPM reject recovery reverse osmosis skid. Watersurplus provided startup and initial operation services. Surplus brackish reverse osmosis membrane elements were used in the two primary RO units. Surplus desalination membrane elements were used in the reject recovery RO unit.
Performance
After six months of operation this mobile water treatment plant successfully reduced the volume of untreatable water by 85% or 3,400,000 gallons. The remaining 600,000 gallons of untreatable water was hauled away for disposal.