Canusa Heat Shrink Products
Frazer and Tabberer supply Canusa heat shrink materials which are used world wide and generally acknowledged as being the best and most cost effective pipe joint corrosion protection available. The UK market is currently a growth area for Canusa with an ever increasing number of companies moving away from cold applied tapes to heat shrink sleeves.
---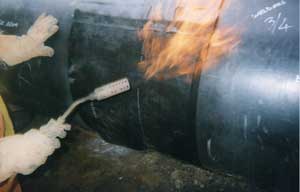 Requiring no specialist installation training, the two-layer adhesive and polyethylene system is heat bonded to the pipe giving it the highest corrosion protection possible, even in the most damp and adverse of conditions. Due to the flexibility of Canusa sleeves, all sizes of pipe and all jointing methods are covered.
Canusa, when used in conjunction with Mannesmann Fuchs Rohr Steel Water Pipe (also supplied by Frazer & Tabberer) offers distinct advantages over the competition and provide the customer with the most highly engineered and longest serving pipeline available.