Alden's 3rd Annual Desalination Intake and Outfall Workshop to be Held in Singapore
Fluid flow and environmental consulting company
---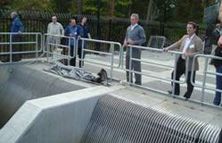 In order to help international desalination developers and operators deal with environmental and maintenance problems associated with intakes and outfalls, Alden is holding a workshop in Singapore on June 28, 2010, one day prior to Singapore International Water Week.
As the supply of safe drinking water around the world has been confronted by increasing demand and diminishing resources, desalination has become an attractive solution globally. There are a myriad of challenges for designers and operators of intakes and outfalls as they struggle to manage site-specific concerns, whether they are about ecosystem health, biofouling, or debris loading.
The workshop will bring together managers and engineers responsible for design, operation, and maintenance of desalination intakes and outfalls, environmental professionals, and regulators to interact and provide guidance as well as cost-effective solutions.
"In terms of the valuable information that was disseminated to the attendees, we received very positive feedback on past workshops held on the East and West Coasts of the US," said Alden President, Stuart Cain. "We're pleased to be bringing it to the international community, particularly in coordination with such a renowned event as Singapore International Water Week."
For more information about the workshop, and to register, please visit www.aldenlab.com/index.cfm/AldenACRES/Desalination_2010 or call Johanna Anderson at +1 508 829 6000 x6508
For further information please email Alden
Alden's 3rd Annual Desalination Intake and Outfall Workshop to be Held in Singapore does not have any posts.