ACWA Wins Prestigious Enviromental Award
Leading regional process solutions provider ACWA Emirates has won a prestigious Frost & Sullivan award for its remarkable achievements in the regional membrane bioreactor (MBR) market over the past five years.
---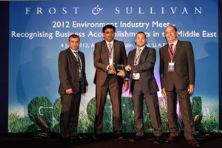 ACWA Emirates, part of global environmental services company ACWA Services, has generated soaring sales of the company's award-winning Memtreat® MBR technology over the past seven years, with 33 plants now installed in the region.
The Enabling Technology Award was made at the leading market analyst's 2012 Middle East Environment Industry Awards Night, held on 4th June in the luxury Atlantis The Palm resort, Dubai, in the presence of leading industry luminaries and experts.
The Frost & Sullivan Environmental Excellence awards honour and recognise "inspiring and exemplary" achievements by companies in the environment industry that have demonstrated best practice, leadership and excellence. The awards are decided through a rigorous assessment process based on detailed research into market performance.
Frost & Sullivan noted that companies receiving the award "are those with the diligence, perseverance, and dedication required to develop a successful business plan and excel in the increasingly competitive global marketplace".
ACWA's flagship Al-Ansab submerged MBR wastewater treatment plant in Muscat, Oman, is seen as the best example of the technology's market acceptance and recognition.
The Al-Ansab plant, believed to be the largest of its kind in the world with a first-stage capacity of 76,000m3/day, is the star of a tranche of high-profile MBR contracts won by the company. Others include the 12,000m3/day Al-Shumaisi MBR plant in Saudi Arabia, the 18,000m3/day Palm Jumeirah wastewater treatment plant, the 12,500 m³/day KAUST plant in Saudi Arabia and the 10,000m3/day MBR plant for Dubai's Sheikh Maktoum Airport.
ACWA Emirates Director and General Manager, Gary Jackson noted: "The award is a fantastic testament to the company's excellent reputation and the significant market for high-value, well-engineered MBR systems in the region. Our success in the MBR market was rightly viewed by Frost & Sullivan as an impressive achievement in a highly-competitive market. The accolade recognises our considerable ability to evolve new applications, deliver technology to the market, and our wide end-user recognition in the region."
ACWA Emirates LLC.
+971 (0) 4 3821 900
www.acwa.co.uk
email: gjackson@acwa.ae
For further information please email ACWA Services Ltd