ACCIONA Agua: water solutions in RO desalination and water and wastewater treatment
ACCIONA Agua is a leader in the water treatment sector with the ability to design
---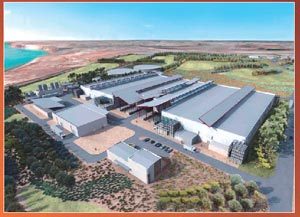 We are one of the world's leading companies in RO desalination and water and wastewater treatment, and our capability is demonstrated by 70 reference projects in the desalination sector (with a total capacity of 1.7 million MLD), and in excess of 320 water, wastewater and sludge treatment projects, positioning us as the market leader in the construction of water treatment plants.
Our core business activities are:
Design, construction and commissioning
Operation and maintenance
Integrated water resources management

In the following sectors:
Reverse Osmosis (RO) desalination
Drinking water
Wastewater
Reuse

DESALINATION

ACCIONA Agua is one of the few companies with a considerable background in the application of reverse osmosis technology in the desalination of sea water and brackish water, as is demonstrated by more than 70 installations, in which the production of potable water is higher than 1.8 million m3/day.

ACCIONA Agua can boast extensive experience in desalination, comprising the entire life cycle of the project: design, construction, start-up, plant operation and maintenance, each of these stages is strongly supported by our R&D department.

Many of the technological innovations incorporated by the designs of the current desalination plants in the entire world have been developed and optimised by ACCIONA Agua.

WASTE WATER TREATMENT PLANTS

ACCIONA Agua provides solutions with minimal installation costs that optimise wastewater treatment plant (WWTP) processes. These optimise efficiency for future operation and maintenance, and deal with the wide range of challenges that must be confronted in wastewater treatment such as populations of very different sizes, domestic urban waters or high industrial loads, highly-seasonal populations, plants located in areas with limited available space or high visual and/or environmental impact, as well as different discharge levels.

ACCIONA Agua benefits from the experience of its facilities in small populations as well as in large cities such as Barcelona, Santander, Leon, Huelva, Malaga and Almeria in Spain, Aveiro and Mutela in Portugal and Tangiers in Morocco.

The result is the construction of more than 300 wastewater purification plants, with a total capacity of more than 6.9 million m3/day, equivalent to a population of more than 33.1 million.

DRINKING WATER PLANTS

Since its founding, ACCIONA Agua has developed innovative solutions to the wide range of problems that arise in the treatment of potable water.

ACCIONA Agua has built more than 100 drinking water treatment plants in total, with a capacity of over 67.03 m3/s, which together supply more than 15.9 million people.

OPERATIONS AND MAINTENANCE

Throughout the operations and maintenance chain of WTPs (Water Treatment Plants), ACCIONA Agua aims to optimise the various processes with the application of the latest technology, by minimising energy consumption, guaranteeing high-performance purification in the treatment and analytical control of water quality, as well as the correct environmental management of mud, waste and by-products generated in the treatment processes.

ACCIONA Agua's maintenance strategy concentrates on in-depth, preventive measures which ensures a minimum of corrective maintenance, thus reducing damage to the facilities, or interruption of activities. For this, computer programmes and devices such as vibrometers, thermographic cameras and calibration of signals are applied.